McConnell Says New Stimulus 'Unlikely in the Next 3 Weeks'; Trump Pushes $1.8 Trillion Package
Senate Majority Leader Mitch McConnell said out loud on Friday what nearly all Washington insiders have long conceded: There will be no new stimulus package before Election Day.
"I think the murkiness is a result of the proximity of the election, and everybody kind of trying to elbow for political advantage," the Kentucky Republican said during an event in his home state. "I'd like to see us rise above that like we did back in March and April, but I think that's unlikely in the next three weeks."
McConnell's remarks only reaffirm the political reality of trying to forge a bipartisan agreement leading into a major election with a president who continues to offer about-face positions on whether he wants more economic relief before voters cast their ballots.
But further developments came to the forefront after McConnell spoke, as reports emerged that President Donald Trump signed off on a $1.8 trillion counter-offer to Democrats, $400 billion short of the $2.2 trillion House-passed proposal last week but $200 billion more than the White House's previous topline offer of $1.6 trillion.
Even if the stimulus negotiations that are occurring, which are being led by House Speaker Nancy Pelosi (D-Calif.) and Treasury Secretary Steven Mnuchin, were to produce an agreement in principle on Friday, it's questionable whether Congress could even pass legislation before the election that is 25 days away.
Once a deal is reached, it will take several days to draft and iron out the legislative text, plus at least a day or two for members to review the bill once it's released. Then, to pass both chambers—assuming enough Senate Republicans can get on board with the deal—at least a combined week will be needed. The total process from start to finish, once a verbal agreement is reached, would likely be at least two weeks, as was noted in Friday morning's edition of Politico Playbook.
In addition, McConnell reiterated that their priority in the upper chamber is confirming Supreme Court nominee Amy Coney Barrett. That process will playout next week beginning on Monday.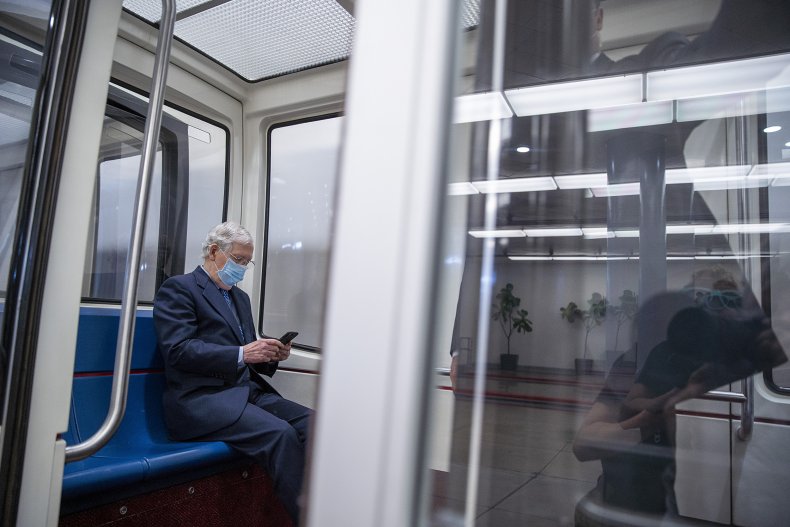 McConnell highlighted how far apart the two sides remain, particularly over hundreds of billions of dollars in aid that Democrats want to provide to local and state governments for budget shortfalls, and how that plays into election politics.
"The proximity to the election and the differences of opinion about what is needed at this particular juncture are pretty vast," McConnell said.
Mixed messaging this week on coronavirus aid from President Donald Trump and his top White House officials has only further confused Washington's leaders about what exactly he is willing to accept.
At first, he shot down the prospect of any package before Election Day, even as Pelosi and Mnuchin had renewed their talks. Hours later, he reversed course, saying he wanted an immediate bill targeting the airline industries as they layoff tens of thousands of employees, despite House Republicans blocking such a proposal last week. Pelosi said Thursday that such a standalone proposal, without a guarantee on a "bigger" package, was off the table.
Then, Trump began pushing for a more comprehensive measure, telling Republicans to "Go Big!"
Causing yet further confusion, White House economic adviser Larry Kudlow told reporters Friday that Trump had "approved" a "revised" stimulus, which was later revealed to be the reported $1.8 trillion counter-offer. Kudlow's announcement led to an immediate jump in the stock markets. Kudlow has not been involved in the ongoing negotiations.
Pelosi and Mnuchin spoke by phone Friday afternoon for just over 30 minutes, according to Pelosi's deputy chief of staff, Drew Hammill. The administration's new proposal was welcomed with lukewarm reception, with Hammill saying it "attempted to address some of the concerns Democrats have."
"Of special concern, is the absence of an agreement on a strategic plan to crush the virus," Hammill said. "For this and other provisions, we are still awaiting language from the Administration as negotiations on the overall funding amount continue."
This is a developing story and will be updated with additional information as it becomes available.