Senate Minority Leader Mitch McConnell vowed that congressional Republicans would fight "tooth and nail" against the Democrats' latest spending bill.
Speaking in front of the Senate on Monday, McConnell said the $3.5 trillion economic policy bill is "the very last thing American workers need. It's the last thing American families can afford. Republicans are going to fight these terrible, painful policies tooth and nail."
House Democrats on Monday released their opening proposal for tax increases on wealthy corporations and individuals.
But ongoing differences between the party's more moderate members and more liberal ones are expected to delay the legislation from advancing, especially from meeting House Speaker Nancy Pelosi's deadline for the end of the month.
McConnell criticized President Joe Biden's American Rescue Plan, claiming Democrats "pretended it was a COVID relief bill."
"What it was was a recipe for rampant inflation, a silent tax hike on American families," the Kentucky Republican said on the first day back from summer recess. "[Democrats are] eager to jam though yet another massive, multitrillion-dollar reckless taxing and spending spree in order to move our country to the left."
The proposal from House Democrats would raise the corporate tax rate to 26.5 percent for the richest businesses and impose an additional surtax on individuals who make more than $5 million.
Biden previously endorsed a corporate rate of 28 percent.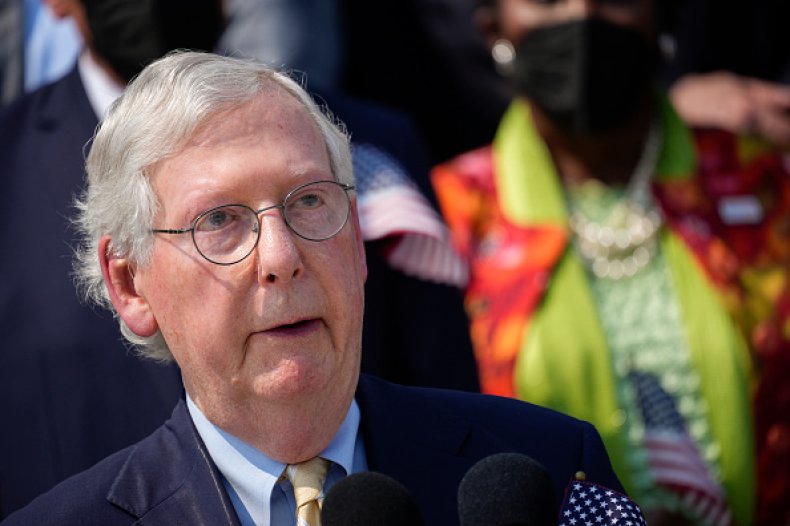 "Details are already emerging about the sizing tax hikes that Democrats are cooking up," McConnell said. "More higher taxes on employers and job creators, targeted tax hikes that hit small businesses and family farms, pulling more Americans into the death tax.
"This tax-hiking wish list would add up to one of the biggest tax hikes in American history."
Democratic Senator Joe Manchin of West Virginia reiterated that he would not support a bill with a $3.5 trillion price tag.
"Chuck knows that—we've talked about this," Manchin said on CNN's State of the Union on Sunday. "We've tried to help Americans in every way we possibly can, and a lot of the help that we've put out there is still there, and it's going to run clear until next year, 2022, so what's the urgency?"
Manchin has pushed for a lower corporate tax of 25 percent.
Vermont Senator Bernie Sanders, an independent who has been instrumental on the spending bill, called Manchin's opposition "not acceptable," adding: "Many of us [in the Democratic caucus] made a major compromise in going from the $6 trillion bill that we wanted."
Pelosi has vowed to hold a vote on the bipartisan infrastructure package on September 27 in the House, and Democrats hope the second economic package will be completed before then.