McConnell Says Senate GOP Won't Allow Another Coronavirus Relief Bill Until They Evaluate What's Been Passed
Senate Majority Leader Mitch McConnell indicated Tuesday that Republicans were in no hurry to create another coronavirus stimulus package.
House Democrats have been pushing for the next round of emergency funding with an emphasis on providing money for coronavirus testing on both a state and local level. However, McConnell said today that while a new stimulus plan could happen, there were no concrete plans for one from Republicans.
"I think I can speak for our conference by saying we're not ruling that out but we think we ought to take a pause here, do a good job of evaluating what we've already done," McConnell said Tuesday.
"The Senate Republican majority and the President of the United States are not irrelevant to the process, so we're going to keep talking to each other and decide to act when and if it's appropriate to act again," McConnell continued.
House Minority Leader Chuck Schumer said in a Monday tweet that McConnell's hold up on a new package revolved around giving "big corporations legal immunity."
"Sen. McConnell's red line in a Coronavirus bill is not testing, help for small biz, housing assistance for families, or rescuing our healthcare system. Sen. McConnell won't support a new Coronavirus bill unless it gives big corporations legal immunity. How does that make sense?"
Newsweek reached out to the offices of McConnell and Schumer for comment. This story will be updated with any response.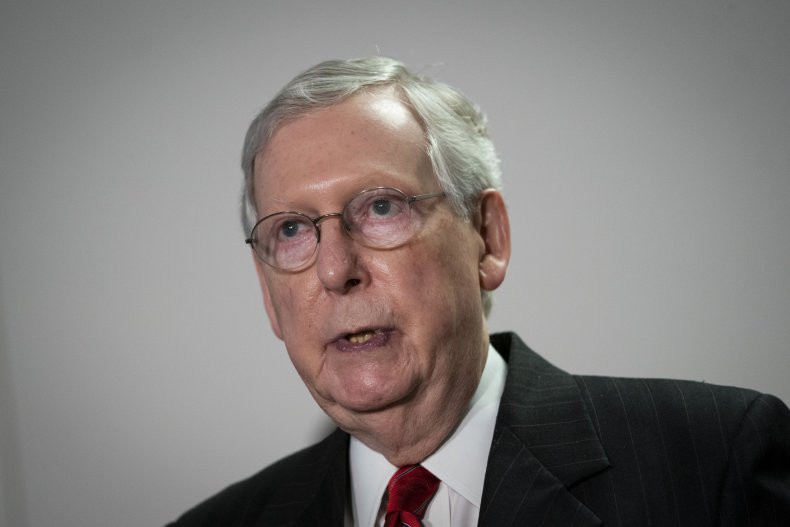 Trump has indicated that a payroll tax cut for workers would be tantamount to his approval of another stimulus package. Payroll taxes are used to fund government programs such as Social Security and Medicare.
"We're not doing anything unless we get a payroll tax cut," Trump said Sunday on Fox News.
Speaker of the House Nancy Pelosi told CNN's Wolf Blitzer on Monday that Trump's insistence on the payroll tax cut was a bad idea.
"Let's start now and do things in a positive way. Nobody's putting anything on the table and saying unless we have this, we're not doing that," Pelosi said. "[Trump] shouldn't either."
President Trump has promised more help to Americans who find themselves in financial trouble as an effect of coronavirus mitigation efforts. Many states issued stay-at-home orders, placing individuals out of work. Over 30 million Americans have filed for unemployment benefits because of the pandemic.
"There is more help coming," Trump said during a Fox News town hall on Sunday. "There has to be. And we want to get it to a point, when we open, we're not going to lose businesses and therefore, more importantly, frankly, we're not going to lose the jobs that run the businesses."
The administration enacted the Paycheck Protection Program (PPP) as part of a stimulus package worth over $3 trillion. Business owners who applied for loans under the PPP were eligible to receive enough money to keep their employees on the payroll and cover their rent and utility payments.
However, the first round of PPP money was depleted in less than two weeks. Computer issues also hampered the program with some lenders saying they could not process applications. Although the fund was replenished in April with approximately $320 billion, some banks still reported problems with the system.