McConnell Says Trump Admin 'Paying the Price' for Lax COVID Social Distancing, Mask Wearing
Senate Majority Leader Mitch McConnell on Thursday said he hadn't been to the White House in over two months because the Trump administration weren't strictly following coronavirus guidelines and are now "paying the price for it."
Speaking to reporters in Kentucky, the Republican leader revealed that he hasn't "actually been to the White House since August the 6th, because my impression was their approach to how to handle this was different from mine, and what I insisted we do in the Senate, which is to wear masks and practice social distancing."
With polls indicating that most Americans have lost faith in President Donald Trump's ability to control the coronavirus, McConnell went on to further distance himself from the recent White House outbreak.
"If any of you've been around me since May the 1st, I've said 'wear your mask, practice social distancing, it's the only way we know of to prevent the spread until we get a vaccine," he said. "And we've practiced that in the Senate. Now you've heard about other places that have had a different view and they are, you know, paying the price for it."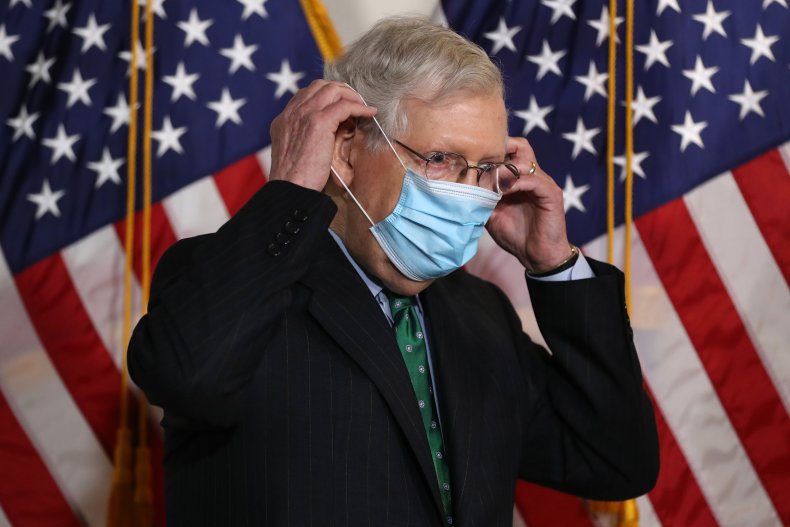 COVID-19 has been tearing through the White House, infecting numerous staffers and aides, since Trump and first lady Melania Trump announced they had tested positive last Friday.
Throughout the ongoing pandemic, the Trump administration has consistently flouted some health care guidelines, including indoor mask use. The president and his inner circle, including Press Secretary Kayleigh McEnany, have frequently been photographed without masks, pointing to their daily testing to justify not wearing protection.
A tough testing process was implemented in the White House after the president initially downplayed the seriousness of the virus. But after dozens of infections, the effectiveness of the strategy and reliability of rapid tests, which the administration relies on, have been called into question.
Some believe the Trump administration outbreak originated at the White House Rose Garden ceremony, where Judge Amy Coney Barrett was officially nominated to the Supreme Court. At least 11 guests—including a few Republican Senators—have since tested positive for COVID.
During his debate against Senator Kamala Harris, Vice President Mike Pence called the ceremony an "outdoor event." While Trump formally announced Barrett in the Rose Garden, photos have recently surfaced showing maskless attendees mingling indoors, flouting social distancing.
McEnany and at least two of her press aides also tested positive after being seen walking through crowded press offices without masks.
White House Communications Director Alyssa Farah defended the administration from mounting criticism over their handling of the outbreak on Sunday.
"When we had a previous positive case in the West Wing a few months ago, certain people who were potentially exposed versus second degree contact stayed home for the period," she told reporters. "We're wearing masks when we can't socially distance. We also go through routine cleanings of the building, just to make sure surfaces are covered."
Newsweek reached out to the White House for comment.