McConnell Says Trump Troop Withdrawal from Afghanistan Would Be 'Victory for Islamic Extremism'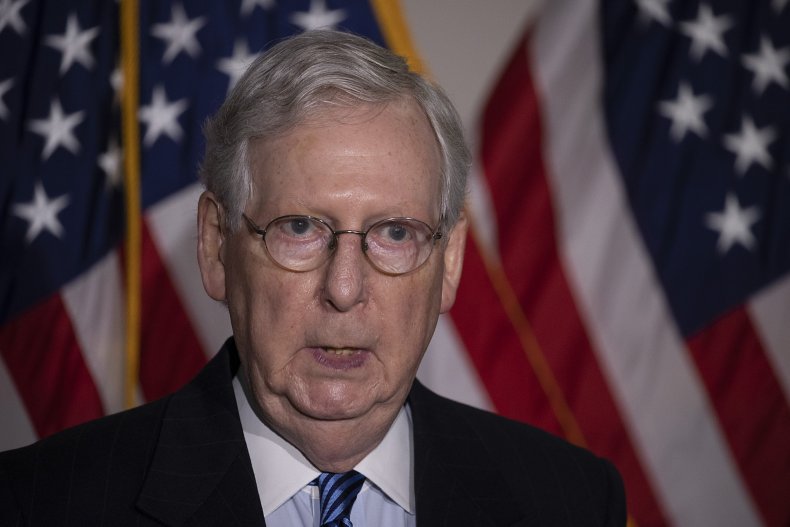 Senate Majority Leader Mitch McConnell warned that President Donald Trump's reported plans to withdraw U.S. troops from Afghanistan would be a "victory for Islamic extremism" Monday.
McConnell made the remarks while speaking from the Senate floor, warning that the plan would constitute a "propaganda" win for U.S. enemies. He said that Trump deserves "major credit" for reducing troops in Afghanistan to a "sustainable level" but cautioned against any further reductions, saying that the current arrangement should remain "until the conditions for the long term defeat of ISIS and Al-Qaeda have been achieved."
"A rapid withdrawal of U.S. forces from Afghanistan now would hurt our allies and delight the people who wish us harm," McConnell said. "The consequences of a premature American exit would likely be even worse than President Obama's withdrawal from Iraq back in 2011, which fueled the rise of ISIS and a new round of global terrorism."
"The spectacle of US troops abandoning facilities and equipment, leaving the field in Afghanistan to the Taliban and ISIS, would be broadcast around the world as a symbol of U.S. defeat and humiliation and of victory for Islamic extremism," he added.
Trump has suggested withdrawing a significant number of troops from both Afghanistan and Iraq only days before he is set to leave office on January 20, according to the Associated Press, citing U.S. officials who spoke about the internal discussions on the condition of anonymity. News of the plan came one week after Trump fired former Defense Secretary Mark Esper and replaced a number of top Pentagon officials with loyalists.
Against the recommendations of military commanders, the withdrawal would reportedly be completed five days before President-elect Joe Biden begins his term. To reach a goal of no more than 2,500 troops in each country, at least 2,000 of the approximately 4,500 to 5,000 U.S. troops currently serving in Afghanistan would be cut, while 500 of the 3,000 troops in Iraq would leave.
McConnell compared the proposal to the "humiliating" final withdrawal of U.S. troops at the end of the Vietnam War, insisting that the president would be making a mistake by helping foreign enemies achieve their goal of the U.S. military leaving the region.
"It would be reminiscent of the humiliating America departure from Saigon in 1975. We'd be abandoning our partners in Afghanistan," said McConnell. "It would hand a weakened and scattered Al-Qaeda a big, big propaganda victory and a renewed safe haven for plotting attacks against America. And it would be welcome news for Iran."
Trump suggested bringing all U.S. forces in Afghanistan "home by Christmas" in a tweet on October 7, prompting General Mark Milley, chairman of the Joint Chiefs of Staff, to insist that a conditional withdrawal could happen no sooner than May. The president's national security adviser Robert O'Brien had previously suggested cutting troops in Afghanistan to 2,500 by early 2021.
Newsweek reached out to McConnell's office for comment.