McConnell Spending More Than Trump on MAGA Candidates
Former President Donald Trump speaks loudly about the Republican candidates he's backing for the midterm elections. His money isn't always where his mouth is, however, at least not to the same level as Senate Minority Leader Republican Mitch McConnell.
With Election Day just four days away, Republicans are fighting to flip the Senate in their favor. Many Trump-endorsed candidates are neck-and-neck in tight races against their Democratic opponents. Every dollar counts this close to the election and despite last minute fundraising pushes on both sides, many races remain tight. In the meantime, Trump is directing his attention toward McConnell, a Kentucky Republican, blaming him for allowing Democrats to "blow up the debt ceiling." The former president also said that Republicans should impeach McConnell rather than choosing to funnel more money into races supported heavily by his political action committees (PAC).
"It's crazy what's happening with this debt ceiling," Trump said Thursday during an interview on John Fredericks' Real America's Voice. "Mitch McConnell keeps allowing it to happen. I mean they ought to impeach Mitch McConnell if he allows that. Frankly, Mitch McConnell—they have something on him."
Instead of criticizing or impeaching McConnell, an opinion piece by conservative and former White House speechwriter Marc Thiessen published Thursday in The Washington Post, said Republicans should thank the Senate minority leader if the GOP wins the Senate come Tuesday.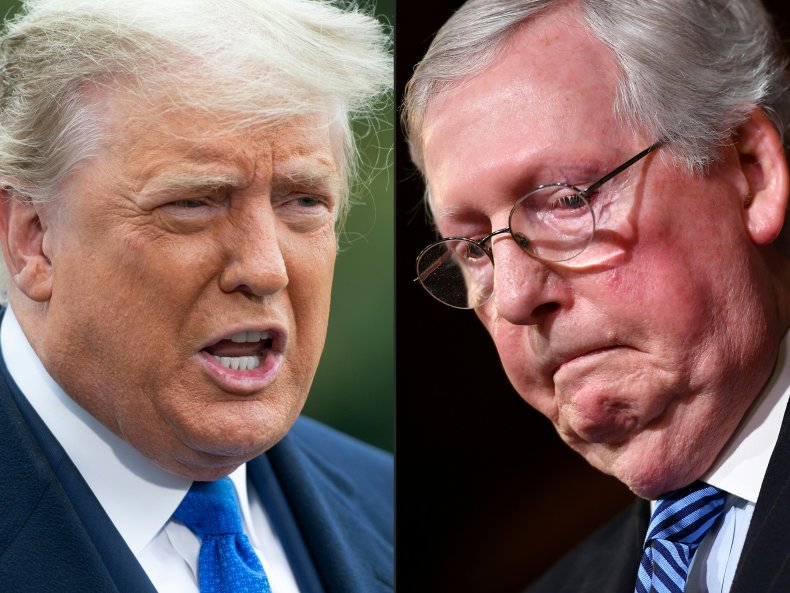 The newspaper reported that Trump has raised a whopping $161 million for campaigns this year, but his Make America Great Again (MAGA) super PAC has spent a measly $14.8 million in Senate races as opposed to McConnell's super PACs, which have funneled $238 million into Senate races to "bail out" Trump-backed candidates.
Thiessen used Republican J.D. Vance's campaign as an example. Vance is vying for a Senate seat in Ohio against incumbent Democrat Tim Ryan, and recently elicited a cry for help, threatening to drop out of the election if his supporters didn't donate more resources. McConnell's PACs have cushioned Vance's campaign with $32 million, whereas Trump's support dwindled at $2.3 million, less than one-tenth of McConnell's contributions. Vance raised nearly $7 million with his own efforts, more than twice Trump's contributions.
A report by AdImpact reported that McConnell's super PAC Senate Leadership Fund (SLF) was the leading group donating to Senate races. SLF donated $205 million of the $238 million from McConnell's PACs, distributed across nine Republican Senate candidates. According to the article, SLF is heavily focusing its efforts on races in Georgia, Pennsylvania and North Carolina. Each of those Republican candidates received more than $30 million from SLF for their campaigns.
In his opinion piece, Thiessen said that Trump's PAC hasn't donated any money to the North Carolina Senate race, only $3.4 million to Pennsylvania's race against McConnell's $57 million, and only $3.4 million to the Georgia Senate race as opposed to McConnell's $38 million.
"So, while Trump issues Truth Social missives attacking McConnell and his wife, he is quietly depending on the "Old Crow" to bail out the candidates he endorsed — and on whom Senate control now depends," Thiessen said in the article, who added that if Republicans failed to secure the Senate, blame should fall on Trump for not better supporting those candidates.
Newsweek reached out to McConnell and Trump for comment.