McConnell Thinks 'Compromise Is Within Reach' on COVID Relief, Days After He Dismissed Bipartisan Proposal
Days after he nixed a bipartisan proposal to aid Americans amid the coronavirus pandemic, Senate Majority Leader Mitch McConnell said Thursday he's seen "hopeful signs" Congress will reach a deal before the end of the year.
"Compromise is within reach," the Kentucky Republican said on the Senate floor. "We know where we agree. We can do this. And we need to do this. So let's be actually about making a law."
McConnell called for "common sense" proposals to be passed immediately, such as reviving the Paycheck Protection Program, providing money for coronavirus vaccine distribution and extending federal unemployment benefits. He also said the next bill should include liability protections, something Democrats have soundly rejected.
"There's no actual reason why the fates of common sense policies like the second round of the job-saving Paycheck Protection Program had to be linked to the fates of fringe proposals like stimulus checks for illegal immigrants," McConnell said.
Senate Minority Leader Chuck Schumer immediately pushed back against McConnell's assertion about a swift compromise.
"The Republican leader came to the floor this morning to say compromise is within reach—his words—before reiterating a long list of Republican demands and blaming the Democrats for everything," the New York Democrat said on the Senate floor.
McConnell's remarks came just after he had rejected a bipartisan proposal for a new economic relief package. On Tuesday, the House of Representatives' Problem Solvers Caucus unveiled a $908 billion compromise deal. The legislation would extend federal unemployment insurance; provide additional funds for the Paycheck Protection Program; and include $82 billion for education, $45 billion for transportation agencies, $26 billion for nutrition assistance and $16 billion for coronavirus testing and vaccine distribution.
"We just don't have time to waste time," McConnell told reporters in response to the proposal. Instead, he put forward his own $500 billion plan. A similar version of the GOP's smaller, more targeted relief bill failed in the Senate earlier this year.
Newsweek reached out to McConnell's office for comment on what he plans to offer Democrats in the compromise and his rejection of the bipartisan legislation, but did not hear back in time for publication.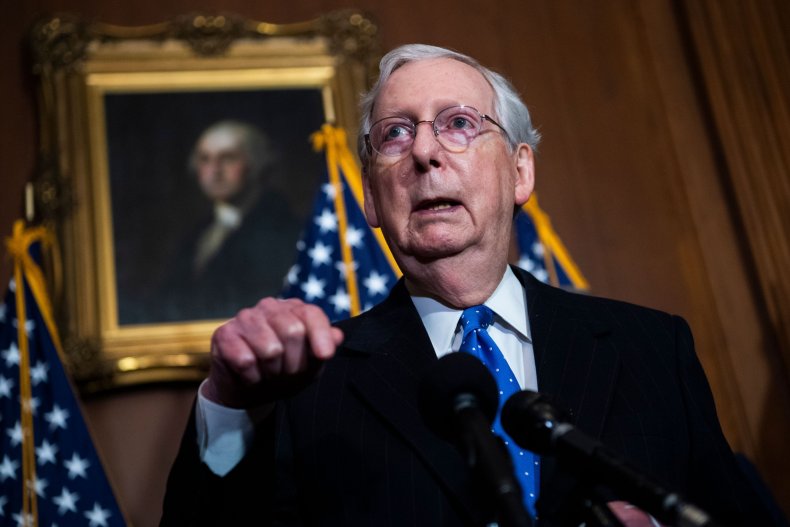 House Speaker Nancy Pelosi and Schumer, on the other hand, cut their aid demands Wednesday and embraced the bipartisan proposal in "the spirit of compromise." The package doesn't include nearly as much aid as the Democrats had pushed for before the election. The two versions of the relief bill previously passed in the House cost $3 trillion and $2.2 trillion.
"Of course, we and others will offer improvements, but the need to act is immediate and we believe that with good-faith negotiations we could come to an agreement," the Democratic leaders said in a statement.
It's been eight months since Congress passed its first economic relief package, the $2.2 trillion CARES Act. Calls are mounting for lawmakers to reach a deal before they adjourn for the year on December 21.
"The solution to this impasse has been in plain sight for a long time now for anybody willing to see it," McConnell said on Thursday. "Agree where we agree. Bank that progress. Make law. Take a whole lot of pressure off of struggling people. And then keep debating the areas where we don't agree."