McConnell Told Trump to Nominate Amy Coney Barrett on Night of Ginsburg's Death, Ex-Chief of Staff Says
On the evening that Supreme Court Justice Ruth Bader Ginsburg died, Senate Republican Majority Leader Mitch McConnell allegedly encouraged President Donald Trump to nominate Judge Amy Coney Barrett to fill Ginsburg's seat, according to a PBS documentary expected to be broadcast on Tuesday on the series Frontline.
Barrett's nomination was opposed by many Democrats who felt that no Supreme Court nominee just be appointed before the 2020 presidential election. Democrats also balked at Barrett's conservative leanings, concerned she may try to overturn the Affordable Care Act and Roe v. Wade. According to McConnell's former chief of staff Josh Holmes, McConnell spoke with Trump soon after Ginsburg's passing.
"McConnell told [Trump] two things," Holmes said in the documentary Supreme Revenge: Battle for the Court. "McConnell said, first, I'm going to put out a statement that says we're going to fill the vacancy. Second, he said, you've gotta nominate Amy Coney Barrett."
Newsweek reached out to McConnell's office for comment.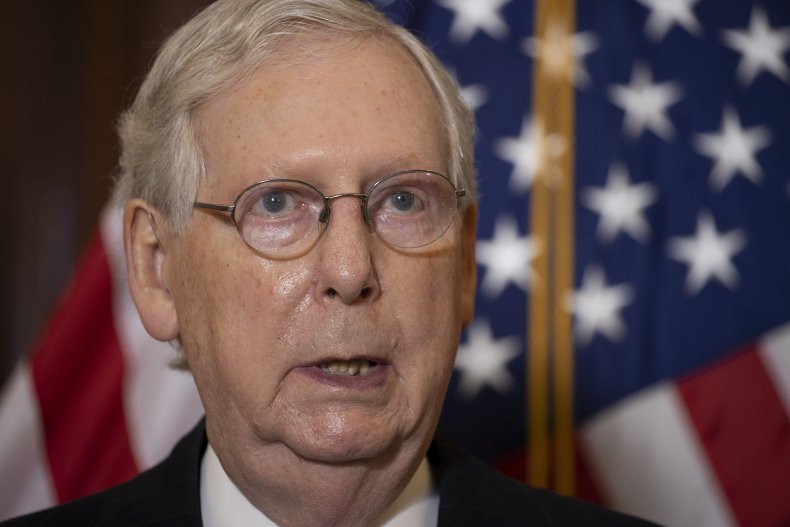 Holmes served as McConnell's chief of staff for three years before managing McConnell's re-election campaign in 2017. Currently, Holmes is the president of the political consulting firm Cavalry, LLC.
McConnell said in September that filling Ginsburg's seat was an "obligation under the Constitution" which would take place while Trump was still in office. "This current Senate, elected the last time in 2018, will be here until the end of the year and the president will be here until January 20th," McConnell said.
Some lawmakers disagreed with McConnell's perceived rush to nominate Barrett. Maine Republican Senator Susan Collins said that the decision on a new Supreme Court justice "should be made by the President who is elected on November 3rd."
Many Democrats pointed towards McConnell's previous blocking of President Barack Obama's nomination of Judge Merrick Garland while Obama was in the final months of his administration. Obama nominated Garland to replace the late Justice Antonin Scalia in 2016. McConnell declined to move Garland's nomination forward until after the election between Hillary Clinton and Donald Trump.
"The American people may well elect a president who decides to Judge Garland for Senate consideration," McConnell said in March 2016. "The next president may also nominate someone very different. Either way, our view is this: Give the people a voice."
After Barrett's nomination, Senate Majority Leader Chuck Schumer called the Republicans' push to confirm Barrett a "monument to hypocrisy" during floor remarks in October.
Despite the opposition of Democrats, Barrett's nomination was confirmed. On October 26, Barrett was sworn in as Associate Supreme Court Justice at the White House by Justice Clarence Thomas.
"My fellow Americans," Barrett said during her acceptance speech, "even though we judges don't face elections, we still work for you. It is your Constitution that establishes the rule of law and the judicial independence that is so central to it."