President-elect Joe Biden is buoying top Democrats' confidence that Congress can swiftly overcome a months-long impasse over more coronavirus relief, even as Republicans remain steadfast in their approach for a more "targeted" bill.
With one of the most contentious presidential elections in decades in the rear-view mirror, and as Congress turns its attention toward providing more economic aid during President Donald Trump's remaining time in office, top Democrats on Thursday doubled down on their demands for a comprehensive package to address the recession.
"What Joe Biden got in this election was a mandate to have a positive initiative on how to grow the economy in a fair way," House Speaker Nancy Pelosi contended.
Flanking the California Democrat during a press conference was Senate Minority Leader Chuck Schumer, who said Biden was given a clear directive from the American people.
"This election was more a referendum on who can handle COVID well than anything else," the New York Democrat said. "The Donald Trump approach was repudiated, the Joe Biden approach was embraced, and that is why we think there is a better chance to get a bill in the lame-duck. If only the Republicans would stop embracing the ridiculous shenanigans Trump is forcing them to do in the election and focus on what people need."
However, those hopes were dashed just mere minutes later. Speaking to reporters on the other side of the Capitol, Senate Majority Leader Mitch McConnell rejected the Democrats' expectations for a large spending bill during Congress' lame-duck session that extends until the new Congress on January 3. But he said there should still be some aid.
"That's not a place I think we're willing to go," McConnell said. "But I do think there needs to be another package. Hopefully, we can get past the impasse we've had now for four or five months and get serious about doing something that's appropriate."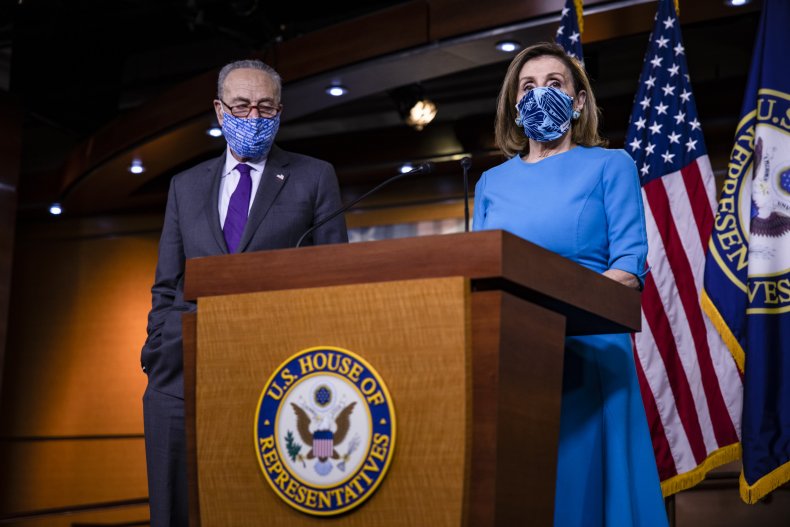 The Kentucky Republican and his GOP colleagues have said they're willing to approve more narrow legislation that would cost in the ballpark of $500 billion. Democrats, meanwhile, are still eyeing roughly a $2.2 trillion plan.
"My view is, the level at which the economy is improving further underscores that we need to do something at about the amount that we put on the floor in September and October: highly targeted at what the residual problems are," McConnell added.
The result was the same as it has been for months: Washington's most powerful figures in Congress digging into their desires and unable to end the logjam to dole out more relief to millions of Americans amid a pandemic that's devastated many families' finances. There are currently no ongoing negotiations.
Retaking the upper chamber could be the Democrats' last hope of passing the amount of relief that they've tried to get approved since May. Control of the Senate is in limbo until January 5, when Republican Senators David Perdue and Kelly Loeffler of Georgia face runoff elections against their Democratic challengers.
But that is a steep hill to climb. Although Biden could turn the Peach State blue for the first time since Bill Clinton won there—pending a recount that will be done by hand—Democrats would need to flip both Senate seats for the party to control the legislative body.
In the meantime, Pelosi and Schumer said their pre-election and post-election demands for a large stimulus bill remain. "We're at the same place, even more so," Pelosi said. "It has been our position all along: to crush the virus, honor our heroes, put money in the pockets of the American people."
She declined to answer when asked whether she and the Trump administration have tried to rekindle talks.
Additionally, Pelosi said that the Republicans continue to lack compassion and empathy as GOP lawmakers push for their slimmed-down, half-a-trillion-dollar proposal.
"They seem to have a mental block for doing the right thing, a moral block for respecting what it is doing to American families," the House speaker added. "What are they thinking? Or am I using the word thinking loosely?"