McConnell 'Very Clear' COVID Stimulus Will Pass Before Holidays: GOP Sen Daines
Senator Steve Daines, a Montanna Republican, said that Senate Majority Leader Mitch McConnell has been "very clear" in negotiations that a COVID-19 stimulus relief package will pass before the holidays and "likely" by this weekend.
Congressional discussions over another round of economic stimulus have been at an impasse since summer, even as the novel coronavirus pandemic has surged nationwide with more infections, hospitalizations and deaths than the U.S. saw in the spring. Meanwhile, millions of Americans remain unemployed—as news jobless claims have ticked upward—and many are nearing eviction while growing numbers of Americans lack enough food. But Congress now appears to be on the verge of a compromise after months of failure to reach a deal.
"Negotiations went through the night. Leader McConnell's been very clear with all of us that we're going to pass some kind of stimulus relief package before we go home for the holidays," Daines told CNBC's Squawk Box Wednesday morning. "So I'm optimistic that we're going to see a package announced this morning, most likely."
Politico reported Wednesday that lawmakers are nearing a deal totaling $900 billion that would exclude aid to state and local governments as well as liability protections for businesses—the two major sticking points in the negotiations. Democrats had largely insisted on including the state and local aid while they balked at Republicans demanding stronger liability protection for businesses. Meanwhile, GOP lawmakers largely opposed state and local aid, characterizing it as a "blue state bailout."
The new deal would reportedly include additional federal unemployment benefits as well as another round of direct payments to most Americans, though it's unclear how much the direct payment would be. While Democrats, and some Republicans, have insisted on at least another $1,200 check, the White House released a proposal earlier this month that would provide $600. Politico reported that the new stimulus check, if approved, would likely be less than $1,200.
Daines confirmed to CNBC that the pending deal would exclude liability protections and aid to state and local governments. The Republican lawmaker asserted that he personally backs liability protections, but was willing to compromise alongside others in Congress.
"I'm cautiously optimistic we're gonna see this $900 billion package released today and this will likely get passed before we go home this weekend," he said.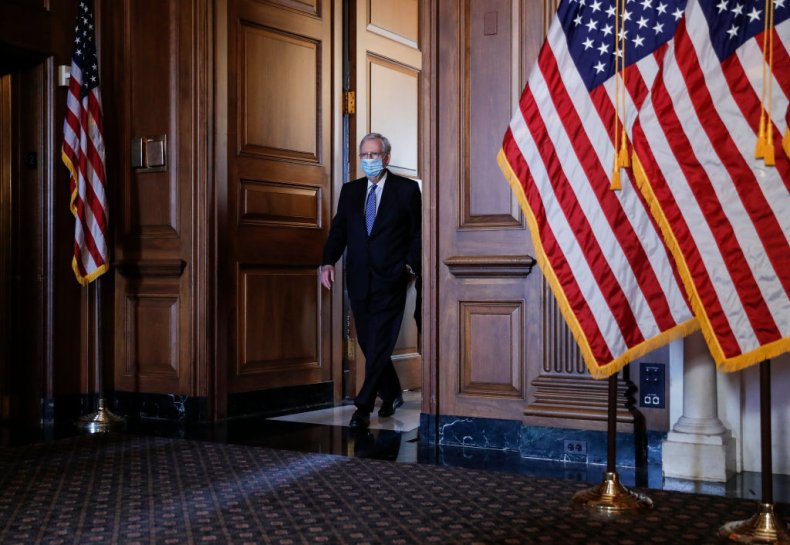 Newsweek reached out to press representatives for Speaker of the House Nancy Pelosi, a California Democrat, and McConnell, a Kentucky Republican, for comment but they did not immediately respond.
McConnell told reporters on Tuesday that Congress would "stay here until we get a COVID package, no matter how long it takes."