McConnell Wants to Wrap Up Trump Impeachment Trial By Christmas, Says Senate Will Hold Trial If House Votes to Impeach
Senate Majority Leader Mitch McConnell on Wednesday declared that if the Democrat-led House votes to impeach President Donald Trump, then the Senate will hold an impeachment trial.
"Under the impeachment rules of the Senate, we'll take the matter up. The chief justice will be in the chair," the top Republican said, noting that the chamber will be expected to convene on most days during the impeachment trial. "We intend to do our constitutional responsibility."
"Senators will not be allowed to speak, which will be good therapy for a number of them," he added.
During a party lunch earlier today, McConnell also indicated to Senate Republicans that both parties want the proceedings to move quickly. Five people familiar with the Wednesday GOP lunch told Politico that McConnell said he "expects House Speaker Nancy Pelosi, who announced the impeachment inquiry into Trump late last month, to approve impeachment articles as early as Thanksgiving," before then theorizing that that the Senate could then wrap up the trial by Christmas.
Democratic members of Congress have also expressed intentions to conclude impeachment proceedings before the Democratic presidential primaries heat up early next year.
"He thinks Democrats are of the same mind: let's not drag this out for five weeks," one attendee of the lunch told Politico. Another unnamed source familiar with the meeting revealed that McConnell said the chief justice of the Supreme Court, Trump's defenders and House managers are the only people who are permitted to speak during the trial.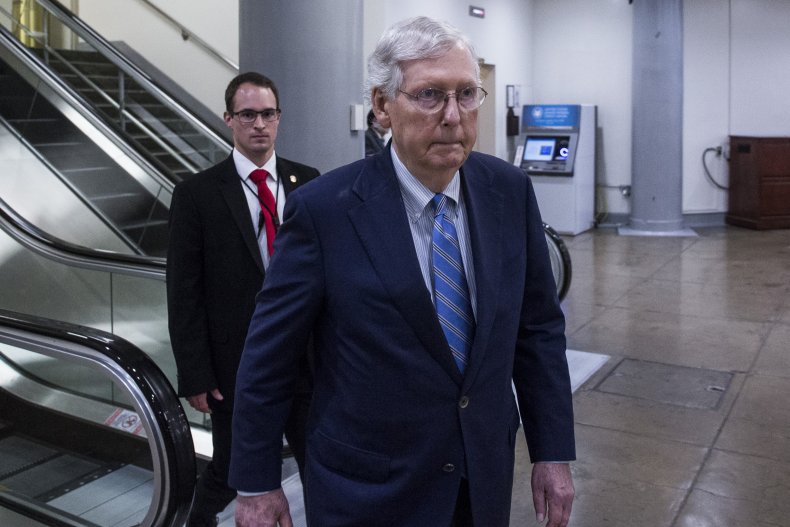 The House impeachment inquiry centers around a July phone call made between Trump and Ukraine President Volodymyr Zelensky, during which the U.S. president asked his foreign counterpart to probe former Vice President Joe Biden's son, Hunter Biden.
McConnell declined to answer when asked on Wednesday whether Trump acted appropriately in asking a foreign power to probe his leading 2020 domestic political rival.
"Look this matter is being looked at in the House," he said. "They're denying due process... At least it seems to be if they're going to go forward providing fundamental fairness and due process is appropriate."
This week the Senate Majority Leader has lashed out at House Democrats twice from the Senate floor for allegedly being too distracted by the impeachment inquiry to focus on legislation in Congress.
"All their energy is going into this all-consuming impeachment parade that has been rolling on for three years now," he said on Wednesday. "Speaker Pelosi's efforts to hold back her left-wing caucus have officially crumbled and the House has thrown itself into impeachment."