Senate Majority Leader Mitch McConnell warned lawmakers Monday that they might not be able to approve the nearly $2 trillion stimulus package designed to combat the economic impact of the coronavirus pandemic until the weekend after Democrats blocked a key procedural vote on the bill for the second time in a 24-hour period.
"The American people have had enough of this nonsense," the Kentucky Republican, who was visibly frustrated, said from the floor. He added that there was "absolutely mindless obstruction going on on the other side while the public is waiting for us to act, while people are losing their jobs, losing their income and shutting down the economy."
Democrats prevented a procedural motion on the bill—just as they did Sunday—over accusations that it benefits corporations more than individuals. At the same time, House Democrats will unveil a proposal of their own that is designed to put pressure on Republicans to make concessions for the package they say does not go far enough to protect American workers and students or provide enough money to assist health care workers on the front lines of the pandemic.
"We require that any corporation that takes taxpayer dollars must protect their workers' wages and benefits—not CEO pay, stock buybacks or layoffs," House Speaker Nancy Pelosi (D-Calif.) said. "We urge the Senate to move closer to the values and take responsibility of [our] act."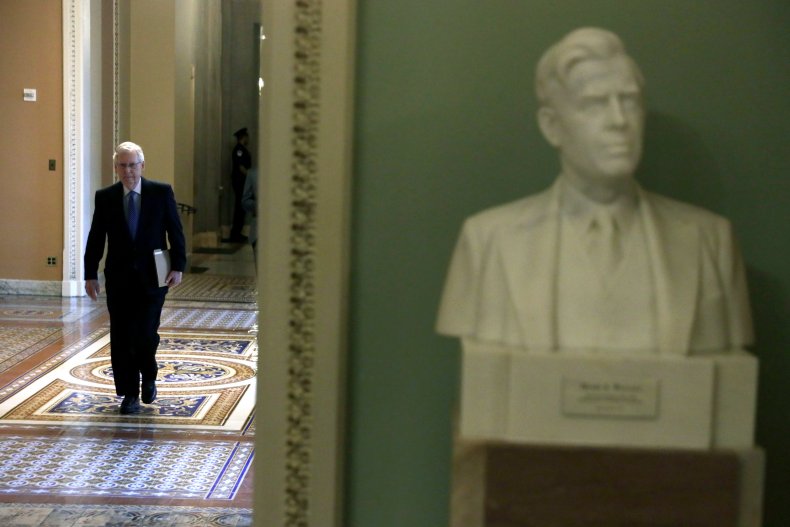 Monday's procedural vote, which needed 60 votes and failed almost entirely along party lines, would have officially begun 30 hours of debate on the stimulus package as Republicans, Democrats and Treasury Secretary Steven Mnuchin continue to negotiate in hopes of soon coming to a final agreement. Once all sides strike a deal, the Senate could move swiftly toward final passage. However, it would only take one member to object and force the chamber to wait until later in the week, potentially Friday or Saturday, before they could vote.
The Senate's usual decorum and composure were upended Monday as tension was released from members on the floor. Republicans lambasted their Democratic colleagues for blocking the procedural votes and wanting to include stipulations in the text about topics unrelated to coronavirus, such as climate-related matters and expansions of vote-by-mail as elections in several states have been postponed. The major sticking points for Democrats have been centered on the desire for restrictions and oversight of large businesses that receive loans, as well as increased medical funding.
"The country is burning, and your side wants to play political games," said Sen. John Thune (R-S.D.), the majority whip.
"The American people are thinking...that the brain is an amazing organ, working until you get elected to Congress. Do you know what the American people are thinking right now?" Sen. John Kennedy (R-La.) said. "They're thinking that this country was founded by geniuses, but it's being run by a bunch of idiots."
Senator Susan Collins (R-Maine) added: "The answer from our friends on the other side of the aisle is delay, delay, delay."
Democrats have made clear they have no intention of taking the procedural step toward approving the legislation until congressional leaders have overcome their impasse. They've returned fire against their colleagues, accusing GOP leaders and Mnuchin of including partisan measures that would act as a bailout for big companies and trying to force a bill upon them that is not bipartisan.
"Every time we hear the majority leader come out, it's a partisan screed while I'm in my office with the secretary of Treasury and the president's congressional liaison getting things done," said Senate Minority Leader Chuck Schumer (D-N.Y.), adding it was his belief that they'd reach a deal sometime Monday.
"Leader McConnell continues to set arbitrary vote deadlines when the matter of real importance is the status of the bipartisan negotiations," he said.