McConnell Warns Trump Administration Against Stimulus Deal, Says It Will Divide Republicans
Senate Majority Leader Mitch McConnell warned the Trump administration against striking a stimulus deal with House Speaker Nancy Pelosi over fears it would divide Republicans before Election Day.
McConnell told Republican colleagues about the warning during a private lunch on Tuesday, according to three people familiar with the conversation. The sources spoke to the Associated Press anonymously due to the private nature of the meeting.
Republicans have expressed concerns that a stimulus deal before Election Day could divide the party. Many rank-and-file members of the GOP have already declined to vote for a big Pelosi-brokered package, and if such a deal is negotiated, Republicans would have to decide whether to support a bill that they consider to be out of touch with conservative values.
Despite his warning to the White House, McConnell on Tuesday committed to giving any stimulus agreement a vote on the Senate floor. However, the Republican did not specify whether that vote would happen before November 3.
McConnell is also worried that a stimulus agreement could disturb the Senate's plans to push through Judge Amy Coney Barrett's confirmation next week, according to the Washington Post.
Newsweek reached out to House Speaker Nancy Pelosi for comment.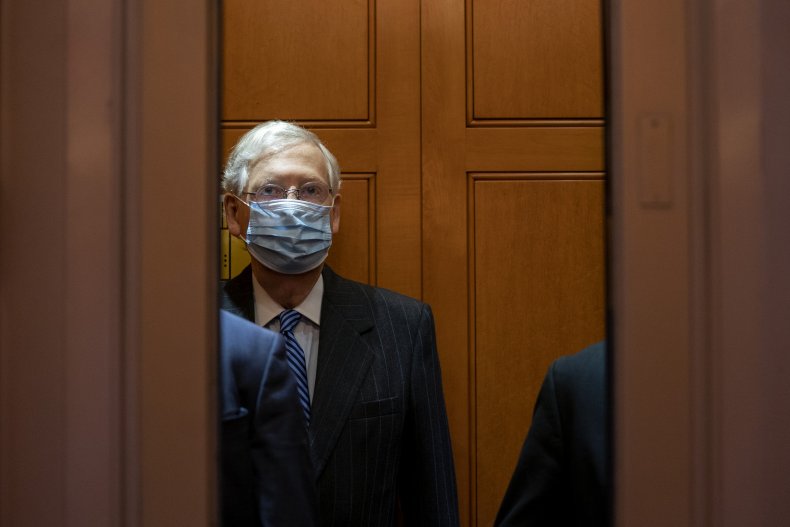 His remarks come as Pelosi and Treasury Secretary Steve Mnuchin continued talks today aimed at achieving a relief deal before Election Day. After indicating today that they were "on a path" to a massive deal, Pelosi extended her self-imposed Tuesday deadline. The Democrat has now given both sides until the end of this week to write and finalize a bill to be voted on before November 3.
Meanwhile, the GOP will push ahead with their vote on another Republican-led $500 billion COVID relief bill on Wednesday. Democrats are expected to dismiss their efforts after having blocked an earlier $500 GOP bill last month due to its low price tag.
On Tuesday, Pelosi expressed optimism about reaching an agreement with Mnuchin, but also revealed that they were still at odds over the amount of aid to allocate for states and local governments, a COVID liability shield for businesses, as well as refundable tax credits for the working class and families with dependents.
"Hopefully by the end of today we'll know where we all are," the Democrat told Bloomberg TV.
An overwhelming majority of Americans in the latest New York Times/Siena College poll, released Tuesday, supported a new $2 trillion stimulus package to extend unemployment benefits, send stimulus checks and provide financial assistance to state and local governments. The figure included 56 percent of support among likely Republican voters and 91 percent of support among likely Democratic voters.