McConnell Warns D.C. and Puerto Rico Statehood Part of Democrats' 'Radical' Agenda
Senate Majority Leader Mitch McConnell dismissed the idea of statehood for Washington, D.C. and Puerto Rico on Monday. The Republican said the idea was part of the Democratic Party's "radical" agenda for a potential Joe Biden administration.
McConnell spoke at a candidate forum organized by the Kentucky Farm Bureau as part of his U.S. Senate re-election bid. He criticized his opponent, Democrat Amy McGrath, for skipping the event.
McConnell, who has led the Republican Senate majority since 2015, made his pitch for another term by warning against the consequences of former Vice President Joe Biden winning the White House.
McConnell said a Biden administration could bring statehood to Washington, D.C. and Puerto Rico. He made clear that a Republican-led Senate would oppose any attempt to bring those two potential states into the union.
"So the American people have a big decision to make here. Which path do you want to take?" McConnell asked.
"You know where the other guys want to take us: D.C. statehood, Puerto Rican statehood, packing the courts, raising our taxes, over-regulating the economy," McConnell said.
"We've seen some of this before but this is a much more radical Democratic party than you have ever seen. I can tell you the moderates are gone.
I know Joe Biden, we did some deals during the Obama years, and I like him personally. He's not going to resist the whole thrust of the national Democratic Party."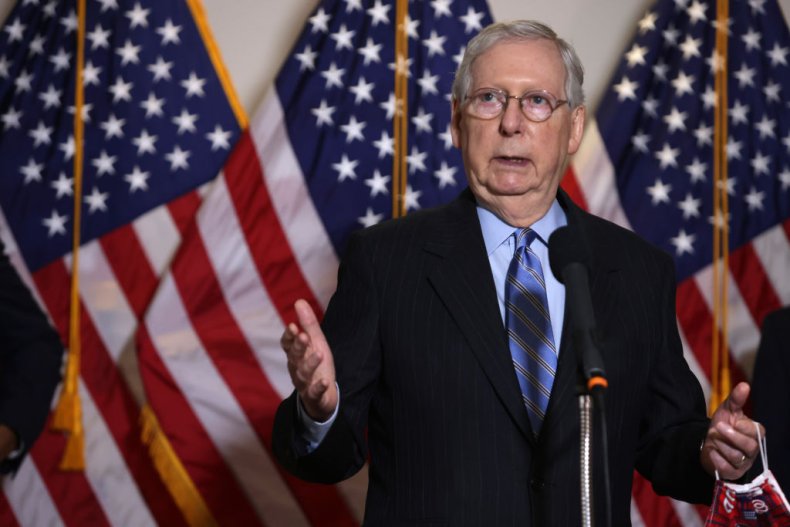 McConnell said that Kentucky was at the center of the choice facing the country before promising that he would not consider extending statehood to D.C. and Puerto Rico if Republicans retain the Senate in November.
"So I can tell you, if I'm the Majority Leader of the Senate, we're not gonna be doing D.C. statehood or Puerto Rican statehood or packing the courts " McConnell said.
"We're going to make it very, very difficult for them to raise your taxes. We won't be able to do much about what they can do administratively, so you could probably have another regulatory nightmare, if you have a Democratic administration."
"I've never seen a more dramatic difference between the two parties than we have today," the senator said.
McConnell also addressed his race against McGrath and pointed to her fundraising numbers.
"I'm the second best-known Republican in America," he said. "And every leftie in the country would love to see me lose.
"So I'll always say with a smile on my face, I'm my opponent's finance chairman and I'm my finance chairman. And between the two of us we've already raised over $100 million to be spent in a state with 4.3 million people," McConnell said.