McConnell Will Not Hold Emergency Senate Session, Leaving Impeachment Trial After Trump's Term
Even as calls mounted for President Donald Trump's swift removal from office in the aftermath of last week's assault on the U.S. Capitol, outgoing Senate Majority Leader Mitch McConnell rebuffed his congressional colleagues' push for an immediate impeachment trial during an emergency session.
News of the Kentucky Republican's decision to reject calls for a prompt trial surfaced Wednesday, before the House of Representatives voted to approve an article of impeachment later in the day. A spokesperson for McConnell reportedly confirmed his formal rejection in comments to multiple news outlets early Wednesday afternoon. The spokesperson said McConnell's aides informed staff at Senate Minority Leader Chuck Schumer's office of the decision, according to the Associated Press.
Lawmakers are trying to force Trump's early departure from the presidency after thousands of his supporters stormed the Capitol complex in a violent siege on January 6, interrupting Congress' joint session to certify President-elect Joe Biden's victory.
Without an emergency session, the Senate will not reconvene until at least January 19, the eve of Biden's inauguration. McConnell's opposition to a more timely session prevents an impeachment trial from occurring before the end of Trump's term.
Concerns about the sitting president's fitness for office mounted in light of his conduct before the Capitol riot. Thousands of Trump's supporters stormed the federal complex immediately after attending his "Save America" rally at the Ellipse, during which he continued to claim, without evidence, that voting fraud and misconduct cost him a second term. His rhetoric, and his failure to diffuse the uprising that broke out at the Capitol, led House Democrats to introduce an impeachment article seeking Trump's removal for "incitement of insurrection."
The House voted to pass the article on Wednesday afternoon, making Trump the first president in U.S. history to be impeached twice. However, as was the case after the House impeached Trump on two articles in early 2020, the Senate has to convict the president at a trial for him to be removed from office.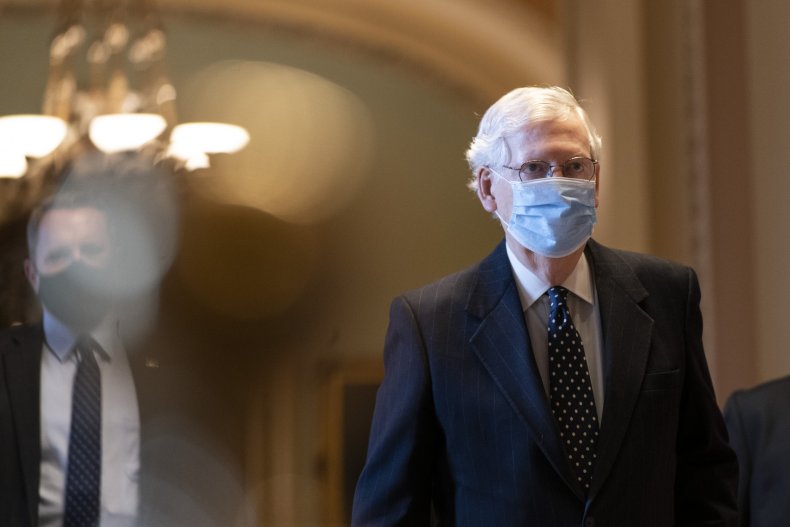 As members of the House engaged in debate and cast votes Wednesday afternoon, Trump issued a statement acknowledging his supporters' reported intentions to engage in additional, and possibly armed, protests ahead of Inauguration Day.
"In light of reports of more demonstrations, I urge that there must be NO violence, NO lawbreaking and NO vandalism of any kind. That is not what I stand for, and it is not what America stands for. I call on ALL Americans to help ease tensions and calm tempers. Thank You," he said in the statement, issued by the White House.
Trump was suspended from his social media accounts after the Capitol attack.
After the House voted to impeach Trump, McConnell released a statement formally saying the Senate would not hold a trial before Biden's inauguration.
"Given the rules, procedures, and Senate precedents that govern presidential impeachment trials, there is simply no chance that a fair or serious trial could conclude before President-elect Biden is sworn in next week," his statement read.
"The Senate has held three presidential impeachment trials. They have lasted 83 days, 37 days, and 21 days respectively. Even if the Senate process were to begin this week and move promptly, no final verdict would be reached until after President Trump had left office," McConnell continued.
He added, "This is not a decision I am making; it is a fact. The President-elect himself stated last week that his inauguration on January 20 is the 'quickest' path for any change in the occupant of the presidency."
Newsweek reached out to McConnell's office for confirmation and further comment but did not receive a reply in time for publication.
This story was updated at 2:48 p.m. ET with additional details and background information and at 5:26 p.m. to include McConnell's statement.