McConnell's Leadership Likely Safe Against Trump Threat to Fill Senate With Supporters, Experts Say
Former President Donald Trump plans to throw his weight behind midterm candidates, and while his endorsement doesn't guarantee a victory, history indicates Trump-backed candidates could take most of the open Senate seats in 2022.
With his focus on the upcoming midterms, Trump's plan is to help candidates who espouse his America First Policy. Increasing Trump's supporters in the Senate is unlikely to cost Senate Minority Leader Mitch McConnell, his former ally turned nemesis, his job, but it could require him to be strategic ahead of the midterms.
"Trump wins and McConnell loses, period," a GOP strategist, who requested anonymity, told Newsweek. "He can't oust McConnell, but he can severely impact him."
Of the six candidates Trump endorsed for open Senate seats in the 2018 and 2020 elections, five won their races, according to Ballotpedia. With elections overwhelmingly favoring incumbents, open-seat races present a rare opportunity for someone to win a spot in the Senate, and at least five are available for the taking come 2022.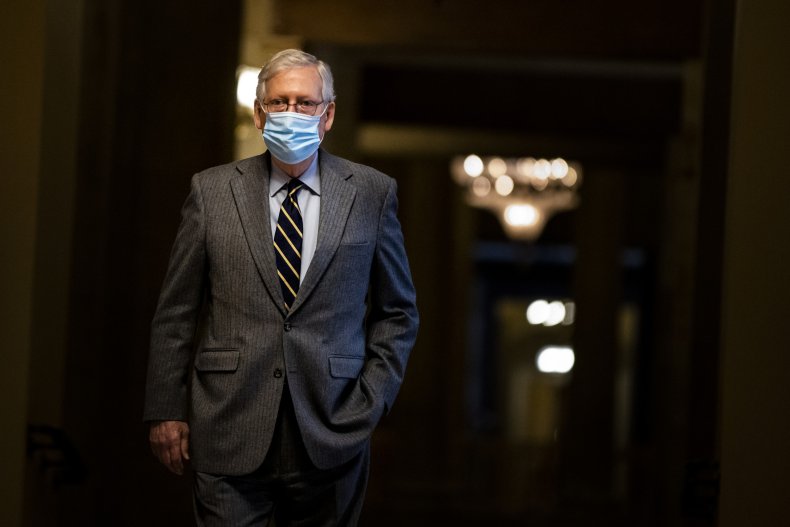 One of those open seats will be in Pennsylvania, as Senator Pat Toomey has no plans to seek re-election. There's "no question" Trump is still very popular among Republican primary voters, Charlie Gerow, a Republican communications strategist, said, but Republican candidates in Pennsylvania will have to walk a fine line to win in both the primary and general elections.
While a pro-Trump candidate could appeal to primary voters in Pennsylvania, Democrats significantly outnumber Republicans in the state. So winning Toomey's seat will require a Republican candidate who can put together a coalition of Trump enthusiasts, moderate Republicans, independents and Democrats.
Seats will also be open in North Carolina, Alabama, Ohio and Wisconsin. A "good" GOP candidate will "straddle the divide" between Trump and McConnell, according to Matt Klink, a GOP strategist. Plus, the two prominent forces of the Republican Party have time to mend fences.
"Mitch McConnell is a master politician and long-term thinker," Klink said. "Don't be surprised if the GOP, under McConnell's leadership, closes ranks and unifies as we near 2022, especially with the prospect of gaining control of both houses within their grasp."
The president usually loses ground in Congress during the midterm elections, and Democrats have only a slim majority in both chambers. Losing even one seat in the Senate would give Republicans the majority, and a loss of six seats in the House would flip control to Republicans.
Even though Trump carries more weight outside of the Beltway in the "real world," where senators get elected, McConnell has his thumb on Washington, D.C., Jeff Timmer, former executive director of the Michigan Republican Party and senior adviser to the anti-Trump Lincoln Project. He's been in office for more than 30 years and has been a Republican leader in the Senate for nearly two decades.
McConnell, whom Trump recently called a "dour, sullen, and unsmiling political hack," has faced calls to resign from the Nelson County, Kentucky, GOP chair and criticism from Senator Lindsey Graham. The South Carolina Republican told Fox News Trump "owns" the Republican Party and while McConnell was "indispensable" to Trump's success, if he doesn't see Trump as the "most consequential Republican, the Senate minority leader is "missing a lot."
Klink called the Republican infighting "normal" and foresees the differences being ironed out over the next six months. Despite the tension between McConnell and Trump, Timmer sees the top-ranking Republican's position as "solid."
"There could be a point where McConnell decides to leave, but it's really hard seeing anyone being able to challenge him," Timmer said. "There's no way they'll throw him over the side."