McConnell's Wife's Family Business Appears on Trump Admin's List of Companies That Received Most PPP Money
A shipping business started by Department of Transportation Secretary Elaine Chao's family received at least $350,000 in loans set aside for companies struggling as a result of the coronavirus pandemic, according to data published Monday by the U.S. Small Business Administration.
Chao's parents launched Foremost Group in New York in 1964. The company is currently run by her father and sister, according to the company's website. Its application for a Paycheck Protection Program loan was approved on April 15, the SBA's data shows. While the exact loan amount was not included in the report, the SBA said a loan between $350,000 and $1 million was approved, enabling the company to save 20 jobs.
"The PPP is providing much-needed relief to millions of American small businesses, supporting more than 51 million jobs and over 80 percent of all small business employees, who are the drivers of economic growth in our country," Treasury Secretary Steven Mnuchin said in a news release announcing the PPP data.
"We are particularly pleased that 27% of the program's reach in low and moderate income communities which is in proportion to percentage of population in these areas," he said, adding that the average loan size was $100,000.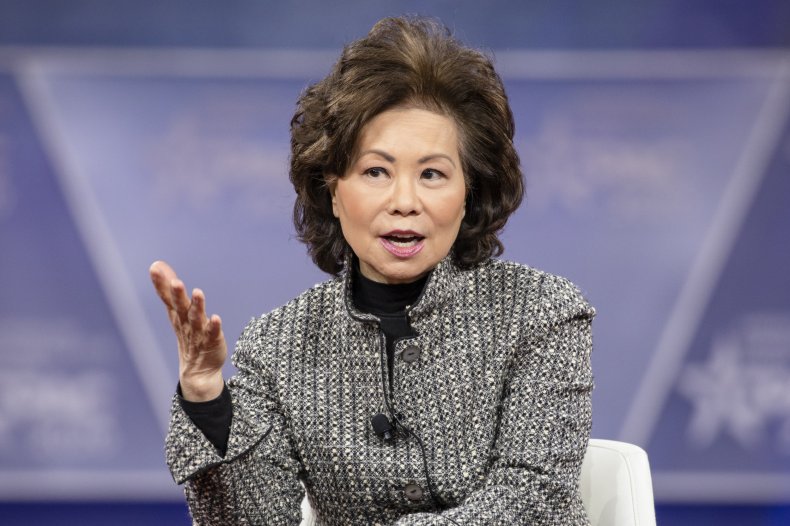 The SBA said it approved about 4.9 million loans through the PPP program. The loan amount approved for Foremost Group is part of the second group of loans—those valued at $150,000 and above—that account for nearly 75 percent of PPP loan dollars allocated by the SBA. The SBA's news release said some loans reached values as high as $10 million.
The PPP was built into the Coronavirus Aid, Relief, and Economic Security Act, a bill President Donald Trump signed into law in late March to provide Americans and business owners with financial assistance as states across the U.S. shuttered temporarily to prevent further spread of the virus. Though $349 billion was allocated for distribution through the PPP, the program ran out of money less than two weeks after it launched, frustrating small business owners who were unable to receive loan approval before the funds dried up. Though additional funding was later directed to the PPP—with the application deadline extended as recently as last weekend—reports of large businesses receiving loan approvals from a program that was theoretically designed to assist small businesses frustrated many within the latter group.
Foremost Group hasn't come under the same amount of scrutiny for its PPP loan as large companies like Shake Shack, which returned its $10 million PPP loan in April, or Harvard University, which received more than $8.5 million, but Chao's relationship with the company has in the past been the subject of an ethics investigation launched by the House of Representatives after Chao assumed her role within the Trump administration in early 2017. Chao, who is married to Senate Majority Leader Mitch McConnell, has also received criticism for possessing stocks after she said she would sell them before stepping up to lead the Department of Transportation.
According to a report by CNBC, several other companies with connections to politicians also received PPP loan amounts greater than the $100,000 average the SBA cited in its news release, including a school in New Jersey named after Trump's son-in-law and political organizations with Democratic and Republican ties.
Newsweek reached out to the Department of Treasury for comment but did not receive a response in time for publication.