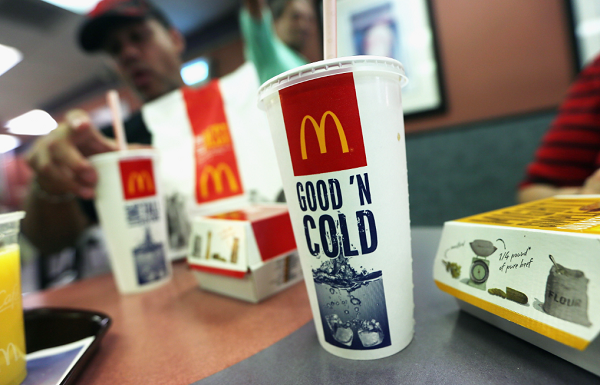 The dry summer heat is literally helping to set cities across the globe on fire, but luckily some folks are able to cool down from the sun's blistering rays by paying the equivalent of a mere $1 for an ice-cold soft drink at participating McDonald's around the world. The downfall: The drinks might come with a side of poop.
Just a few weeks after BBC researchers discovered fecal bacteria in ice used at Starbucks, Caffè Nero and Costa Coffee shops around the U.K., the same team has now found "varying levels" of the same bacteria in ice served at McDonald's, Burger King and KFC chains in the country. According to the BBC report, which aired on the TV show Watchdog on Wednesday, the coliform bacteria found in human and animal feces was detected in three out of 10 ice samples at McDonald's.
The other two fast-food chains in the U.K. were found to have even higher levels of coliform bacteria. At Burger King, customers had it their way with six out 10 ice samples containing coliform bacteria while seven out of 10 ice samples at KFC tested positive for coliform bacteria contamination.
In the U.K., coliform bacteria detected in any water used for human consumption is a violation of DEFRA rules. (DEFRA is the government department that regulates water standards in the U.K.) Although some harmless types of bacteria are allowed in drinking water in the U.S., the Environmental Protection Agency strictly prohibits coliform in water consumed by humans.
In a statement to Business Insider, McDonald's admitted that coliform bacteria—or microbes found in the digestive systems of warm-blooded animals, and in soil, plants and surface water, according to the Centers for Disease Control—was discovered in ice. However, a spokesperson for the fast-food chain said in a statement that no traces of E. coli, another type of harmful fecal bacteria, were found in ice.
"Like many U.K. food retailers, our ice is made by freezing drinking water using commercial ice machines. As the investigation highlights, there are no specific ice production standards in place, only those relating to unfrozen drinking water. We would, therefore, welcome the introduction of an agreed standard and would be happy to work with relevant industry bodies," the statement said.
Meanwhile, a representative from Burger King said that the company would be using the incident as an "opportunity to emphasize our training procedures and ensure all operations and safety standards are upheld." As for KFC, restaurants all across the U.K. have shut down ice machines at affected locations in response to the findings until they can be cleaned and inspected again.
Recently fecal bacteria was found in seven out of 10 samples of ice at popular U.K. coffee chain Costa Coffee, while Starbucks and Caffè Nero were found to have fecal contamination in three out of 10 samples.