McDonald's Drink-Size TikTok Video Watched Over 11 Million Times, Sparks Hoax Debate
A TikTok video of a McDonald's employee "exposing" the fast-food chain's cup sizes has gone viral, having been viewed 11.9 million times at the time of writing.
In March, TikTok user Mikah Neufeld, who goes by @mykah.mykah on the app and appears to be a McDonald's employee in Canada based on the cup design, uploaded a video captioned "they do be lying to us doe." The clip appears to show him pouring the same amount of Coca-Cola into three different-sized cups.
The video has since amassed more than 1.6 million likes and 12,000 comments, as well as the millions of views.
With the words "guys I've figured something out" on screen, Neufeld takes the small McDonald's cup full of Coke and pours it into the medium cup, which fills up to the top. He then takes the medium cup and pours the drink into the large cup, which also fills up to the top, suggesting that all three cups hold the same amount of liquid.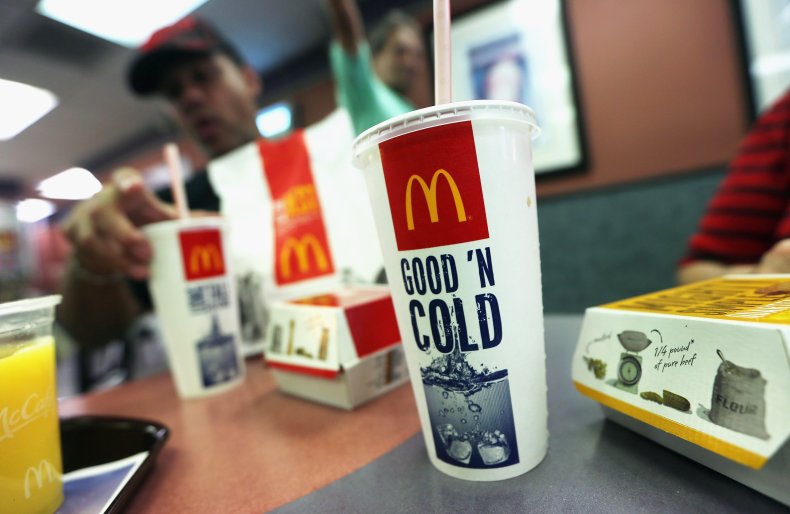 However, not all viewers were convinced that Neufeld had really exposed anything, sparking a debate that the video is a hoax.
Multiple TikTok users suggested that the McDonald's employee had already partly filled the medium and large cups so they would appear full when the contents of the smaller cup were poured in.
As many viewers pointed out, Neufeld did not show the bottom of the cups, so it is unclear if they already contained any liquid.
TikTok user @randomtiktokian said: "That's what happens when you fill up each of the cups slightly and then pour more in," while @alexionut04 said: "So, nobody knows that he put some Coke in the cups before the fill-up?"
Neufeld liked a few of these comments, which might suggest that the video is fake, but also posted four clown emojis with the comment: "People who think there was already Coke in the cups."
Some TikTok users pointed out that even if the video were not fake, it wouldn't make much difference because all the cup sizes cost $1 in the U.S.
TikTok user @me_angle said: "It doesn't really matter though because they all cost the same," and @widewithord said: "But like they are all a dollar so does it really matter."
Other eagle-eyed viewers noticed that the largest cup appeared to have two lines drawn onto it, perhaps a guide to help Neufeld pre-fill the cup to pull off his prank.
Newsweek has contacted McDonald's and Mikah Neufeld for comment.