A man has been jailed after he threatened a McDonald's worker with an imitation gun, a court in the U.K. was told.
The incident took place outside a branch of the fast food chain in Gateshead on June 23 last year. The worker had been dealing with a build-up of traffic outside the restaurant when Arthur Walker, 45, tried to leave the drive-thru line, The Chronicle newspaper reported.
When the worker told him what to do, Walker pulled out what looked like a real gun and threatened the man at the car window, Newcastle Crown Court heard.
It was actually a BB air gun.
Prosecutor Kevin Wardlaw told the court that the victim was doing his job when he was threatened. "He was on traffic control, making sure everything ran smoothly," Wardlaw told the court.
"The defendant was in his car in a queue of traffic and he decided to leave the queue and that caused issues for other traffic and the complainant.
"The defendant took exception to being told what to do and produced a BB gun, an air weapon, and placed it to the window and made threats to the complainant, causing him some concern."
According to The Chronicle, the worker, who was not named, said: "I come to work to protect the public and don't expect to be threatened for doing my job."
Police tracked Walker down through his car registration and found the air gun at his home along with plastic ammunition used for it.
He pleaded guilty to possessing an imitation firearm with intent to cause fear.
A judge handed Walker a 16-month sentence, suspended for two years with rehabilitation.
The judge said he was satisfied that Walker had been under "a good deal of stress" but said the reason did not need to be elaborated, the newspaper reported.
Wardlaw said Walker had expressed remorse, admitting that "it was a stupid thing to do."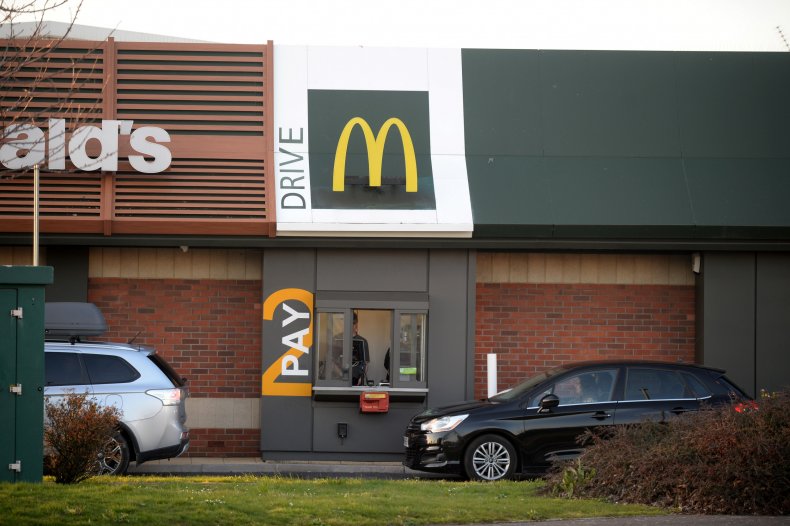 McDonald's and Northumbria Police have been contacted for comment.
Walker's sentencing comes after a series of incidents in the U.S. where fast food chain workers have been attacked or threatened with firearms by irate customers.
Last month, workers at a McDonald's in Georgia reportedly hid in a refrigerator after they were attacked by a customer who was angry that a menu item was no longer available.
Also last month, a Tennessee man allegedly held Little Caesars employees at gunpoint with an AK-47 rifle after being told he would have to wait 10 minutes for his pizza.