McDonald's Customer Shot Dead Following Altercation Inside Restaurant: Police
A customer was shot and killed inside a Texas McDonald's following an altercation with another customer, according to police.
Houston Police Department (HPD) officers raced to the McDonald's restaurant in the Chinatown area of the city at 4:00 p.m. on Wednesday after being alerted to reports of a shooting.
In a tweet shared on Wednesday, the HPD said: "Westside officers are at a shooting scene 9600 Westheimer. Adult male deceased at the scene. 202 [202 refers to the radio number of the lieutenant who tweets]."
The HPD added a man was shot inside the restaurant following an "altercation" inside the restaurant and that the suspect fled the scene, according to Fox26.
Lieutenant Larry Crowson, who was outside the restaurant, told the network: "The male was a customer at the McDonald's behind me. There was some kind of altercation with another customer during that altercation the victim was shot."
Daniel Charles, a resident who lives close to the McDonald's, told Fox26: "It's very shocking that someone would do that for food when we all can just wait."
The suspect who was described as having gray sweatpants and a gray sweatshirt was not located as of Wednesday night, according to the network.
Authorities have launched an investigation into the shooting.
Newsweek has contacted the HPD for comment.
According to the Gun Violence Archive, a database that collects information about shootings from across the U.S., 90 people in Houston have died so far this year following a firearm discharge.
The same database found 325 people in the state of Texas had died as a result of being shot since January 1, this year.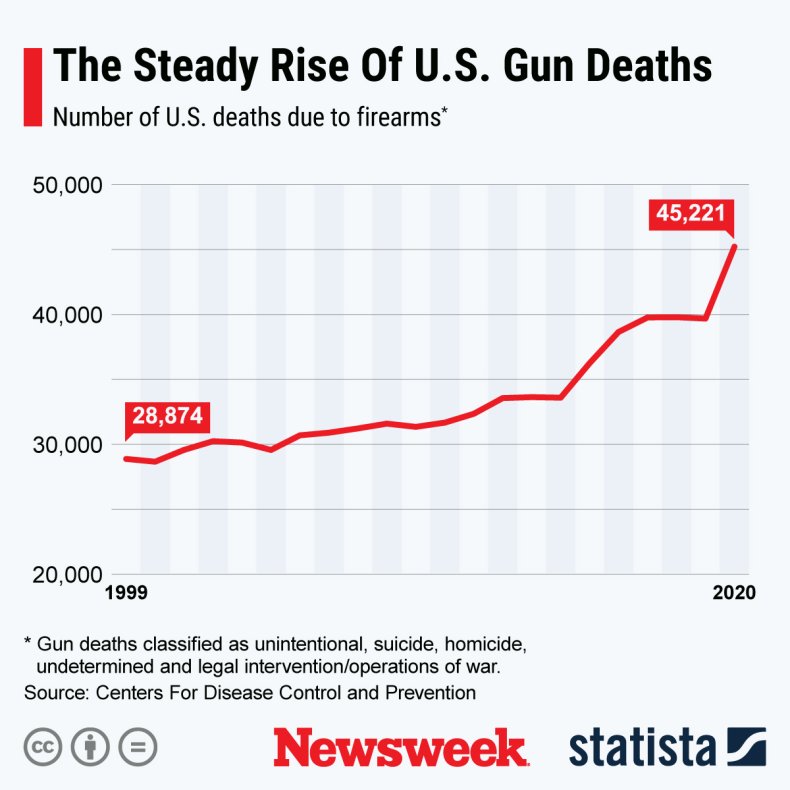 Since 1999, when there were 28,874 people killed by firearms, there has been a steady rise in gun deaths in the U.S. In 2020, the U.S. recorded 45,221 gun deaths in the country, according to Statista.
The shooting in Texas comes days after a man in Utah instructed his 4-year-old son to shoot officers following an argument at a McDonald's, according to police.
Authorities said they were called after a man was seen carrying a gun at a McDonald's drive-thru.
The incident occurred on Monday at 1:30 p.m. at the McDonald's located in Midvale, according to a press release issued by the Unified Police Department.
A police statement read: "The child who fired the weapon is 4 years old and was in the backseat of the car with a 3-year-old sibling.
"Information collected during this ongoing investigation indicates that the father of the child told the child to shoot at the police."