McDonald's 'De-Arching' in Russia Begins as Starbucks Announces Exit
There will be fewer golden arches and green aprons in Russia as both McDonald's and Starbucks announced they are leaving the country following other foreign businesses that've pulled up stakes over Moscow's invasion of Ukraine.
Starbucks on Monday said it had followed through on plans to exit Russia after McDonald's announced it was selling its businesses in the country. The absence of the ubiquitous companies in the Russian market will be one of the most visible signs of the country's ongoing economic rift with the U.S. and the West.
The Seattle-based coffee giant said it has "suspended all business activity in Russia, including shipment of all Starbucks products" and will "no longer have a brand presence in the market." As part of its exit, Starbucks said it will continue to support its "nearly 2,000 green apron partners in Russia, including pay for six months and assistance for partners to transition to new opportunities."
The company's most-recent quarterly and annual filings with the U.S. Securities and Exchange Commission (SEC) do not state how much business Starbucks does in Russia and how its withdrawal will affect its bottom line.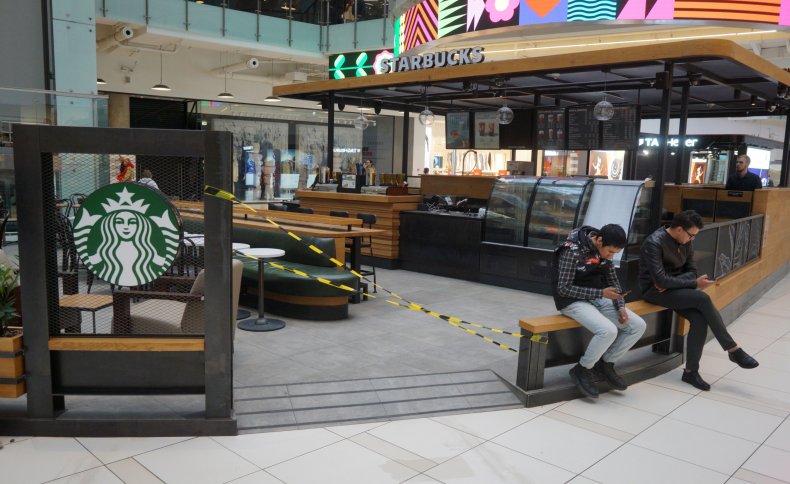 A Starbucks spokesperson told Newsweek in an email that the company has 130 stores in Russia that are now closed and did not provide information on how the business operates there.
Starbucks CEO Kevin Johnson said in a March letter to employees that the company condemned the "horrific attacks on Ukraine by Russia and our hearts go out to all those affected." He also said the company made the decision to suspend business activity in Russia.
"Through this dynamic situation, we will continue to make decisions that are true to our mission and values and communicate with transparency," he said.
McDonald's announced last week that it would begin the "de-Arching" process of its restaurants in Russia after more than 30 years of operations. The company said the war in Ukraine and the unstable business environment "is no longer tenable, nor is it consistent with McDonald's values."
The U.S. burger giant said Friday it had reached a deal with its existing licensee, Alexander Govor, to purchase the chain's entire Russian portfolio and operate it under a new brand. According to the company, Govor has served as a McDonald's licensee since 2015 and has operated 25 of its locations in Siberia.
Under the agreement, employees will be retained for at least two years on equivalent terms. Govor also agreed to fund the salaries of corporate employees who work in 45 regions of the country and to cover existing liabilities to suppliers, landlords and utilities.
McDonald's most-recent SEC annual report states that in 2021, company-operated sales and franchised revenues increased 21 percent. The filing stated that "results reflected strong sales performance across all segments and were driven by the U.K., France and Russia in the International Operated Markets segment."
News that McDonald's was closing its 850 locations drew long lines of Russians waiting to say goodbye to the iconic American fast-food chain whose presence in the 1990s signaled a major thawing between Soviet and Western relations.
How the restaurants will rebrand has drawn speculation. A Russian official said in March that McDonald's would be rebranded as "Uncle Vanya's," with a logo looking conspicuously similar to the golden arches.
But Oleg Paroev, a McDonald's executive in Russia, told Russian news agency TASS on Monday that the company's iconic signs will be dismantled.
"Retaining the yellow 'M' is not considered, as it clearly indicates affiliation with McDonald's. In fact, it is the appearance of the trademark," Paroev told the news outlet. He added that "the new enterprise cannot operate under the old brand."
Newsweek has reached out to the Russian government for comment.