McDonald's Faces Big Problem in East as Russia Mounts Invasion of Ukraine
The Ukraine-Russia crisis may have a significant financial impact on many U.S. companies, including the one that many global citizens view as the most quintessentially American: McDonald's.
Oil and gas prices prices have already increased over concerns supplies will be disrupted by Russian forces moving into separatist regions of Ukraine. Those troop deployments resulted in the White House now referring to the situation as an "invasion" on the part of Russia, and U.S. President Joe Biden has said Russian President Vladimir Putin's actions would result in the U.S imposing severe sanctions against Russia.
This would not be the first time Russia has taken action again the fast-food giant during a time of political crisis. When Russia invaded Ukraine's Crimea region in 2014, the U.S. hit Moscow with sanctions. Putin's regime responded by closing a dozen McDonald's restaurants in Russia and ordered inspections of hundreds of other locations. Tempers flared again when Russia was accused of meddling in the 2016 U.S. presidential election, and Russia fined 44 McDonald's locations in Moscow for health code violations in what was seen by many as retaliation.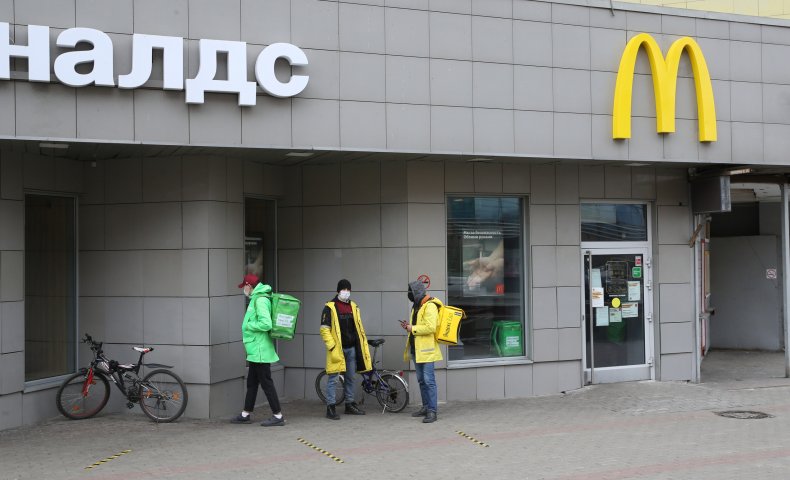 According to data published by QSR magazine in 2018, an average McDonald's restaurant makes around around $2.7 million annually in sales. The company hasn't provided a recent count of restaurants within Russia, but Reuters reported in 2020 that McDonald's had around 750 in the country with plans to expand to a total of 800. Should a significant number of those stores be targeted by the country's government in the wake of U.S. sanctions, the fast-food empire could stand to lose millions of dollars.
Crain's Chicago Business wrote last week of the issues McDonald's could face should the locations in Russia be subjected to punishment. It noted that the company had already looked to separate itself from its U.S. base by advertising that Russian stores get 98 percent of its supplies from local resources.
"Putin likely would look for opportunities to hurt the U.S. wherever he can find them," Joe Cahill of Crain's Chicago Business wrote on February 18. "And McDonald's Russian restaurants couldn't be more conveniently located for the purpose. It's not hard to imagine crowds stoked with nationalistic fervor storming those restaurants, or Kremlin apparatchiks ordering closures."
Another company that is viewed by many across the world as distinctly American has also addressed similar concerns. The Greece-based Coca-Cola HBC, the world's third-largest Coca-Cola anchor bottler, just announced it already has a plan should Russia's invasion in the Ukraine affect its business.
The company, which has a large annual profit from Russian business, said on Tuesday that it could stockpile ingredients should there be any disruptions in Russia after Western countries threatened Moscow with new sanctions.
"We have contingencies in place for all scenarios, including alternative sourcing, so that we can act swiftly to whatever happens," Chief Executive Zoran Bogdanovic of Coca-Cola HBC told Reuters.
Bogdanovic told the news agency that the company had learned from the 2014 Russian-Ukrainian conflict, saying Coca-Cola HBC would "ensure that we have the right level of stocks in our markets to avoid disruptions."
McDonald's could be left with various difficult decisions should Russia conduct a full-on invasion of Ukraine. In 2014, the company closed three locations in Crimea following Russia's aggressions there, which Cahill of Crain's Chicago Business speculated may have resulted in Russia punishing stores within its own country. However, McDonald's may keep its stores open should a war erupt, as long as its deemed safe to keep operating.
McDonald's may also choose to close locations within Russia as a preemptive measure or as its own statement against Moscow's invasion of Ukraine. But when financial stakes have been high, McDonald's has largely avoided political pressure. This can be witnessed by McDonald's continuing to keeps stores in China despite widespread condemnation from human rights groups in regards to Chinese President Xi Jinping's treatment of the Uyghur minority.
Newsweek contacted McDonald's for comment but did not hear back in time for publication.