Following the death of Madeleine Albright, a McDonald's in Guantanamo Bay decided to fly its flag at half-mast, ultimately causing confusion online.
Albright was the first woman to become the United States secretary of state and her death on March 23 was mourned by Republican and Democrat figures.
New York Times reporter Carol Rosenberg, who covers the Guantanamo Bay area, posted an image of the McDonald's flag at half-mast on Thursday.
"The U.S. Navy base at Guantanamo Bay, Cuba, honors the service of former Secretary of State Madeleine Albright," Rosenberg wrote in the caption.
However, this decision has been met with confusion and condemnation online due to the reputation of the United States in Guantanamo Bay.
"The McDonald's flag at half-mast outside Guantanamo Bay is truly the most perfect visual representation of modern America one could imagine," Stephen McNeice, former Newstalk digital news editor, wrote in a tweet.
"There's something about seeing a supposedly solemn photo of the f***ing McDonald's flag flying at half-mast at f***ing Guantanamo Bay that is so truly, darkly hilarious in an absolutely eldritch way I wish I was capable of composing proper words for it," writer and game designer, Rani Timekey Baker, tweeted.
"The McDonald's flag at half-mast above the U.S.'s offshore torture colony is the most American salute to Albright possible," Palestinian-American writer Yousef Munayyerr tweeted.
"McDonald's flies its flag at half-mast at the Guantanamo torture facility in honor of Madeleine Albright, who said starving 500,000 children was 'worth it'," activist and author Thomas Becker wrote in a tweet.
"Meanwhile McDonald's closes restaurants in Russia. Apparently, some are more deserving of #humanrights than others."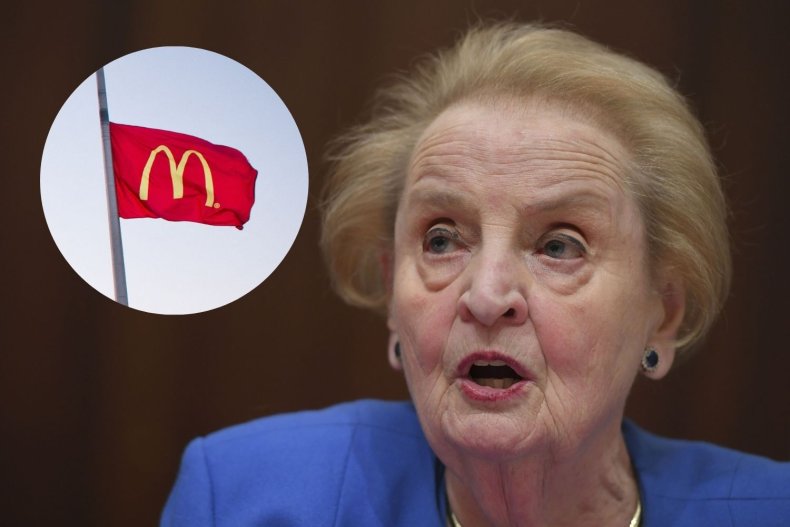 Since the announcement of her death, a video from 1996 of her comments regarding the deaths of Iraqi children has resurfaced.
While speaking during a 60 Minutes interview, correspondent Lesley Stahl discussed with the then-United Nations ambassador how Iraq had been suffering from the sanctions placed on the country following 1991's Gulf War.
"We have heard that half a million [Iraqi] children have died. I mean, that is more children than died in Hiroshima," Stahl said. "And, you know, is the price worth it?"
"I think that is a very hard choice," Albright answered, "but the price, we think, the price is worth it."
Clips of this interview have begun circulating on social media with many levying criticisms at Albright. People have also taken issue with those giving praise to Albright following her death.
Dima Khatib, managing director of the Al Jazeera news service AJ+, said: "Please before you shower us with stuff about how great Madeleine Albright was, go dig what she thought of half a million Iraqi children killed by US sanctions on Iraq. Once you have heard her say: 'it was worth it' then come back and rewrite about her 'greatness!'"
Journalist Jon Schwarz also added to the criticism of the decades-old comments. He said: "Some people remember Madeleine Albright said in 1996 it was 'worth it' for sanctions to kill 500,000 Iraqi children. No one remembers the sanctions were legally supposed to be lifted when Iraq had no WMD, which, of course, it didn't."