McDonald's Removes 'Lynching' Halloween Decorations From Massachusetts Store Following Complaints
A McDonald's in Massachusetts has apologized following complaints their Halloween decorations inside their store resembled a "lynching."
The fast-food branch in North Andover confirmed they removed the offending decorations that showed a black silhouette of a figure being hanged from a tree by a rope.
Local resident Erik Pocock spotted the stickers and posted a video of them onto social media on October 22 to complain, urging McDonald's to "explain this." According to Patch, Pocock has since protected his Twitter account, meaning his video is unavailable.
"More like a lynching, but you could have taken it either way," Pocock told WCVB.
"It looked like a typical Halloween decoration. It said 'Happy Halloween.' It had some spiderwebs and some spiders and, like, a haunted tree and I was like: 'Oh, that's cute,'" he said. "Then, you look closer and that's not cute. That's not right."
He added to WHDH: "Something so insensitive like this, they need to take it down. They should have thought twice about putting it up."
Pocock also noted that the McDonald's store in question is located across the street from a high school and is a popular hangout for teenagers. The "lynching" decoration was also placed under the registers, meaning could be in the eye line of young children.
"My friends and I were completely shocked that a large establishment like McDonald's would put decorations like these up for all to see," Pocock added to Today Food. "It's disgusting, insensitive and I can't believe someone thought this was a good idea."
Fellow customer Stephen Long also said that the decoration was in poor taste. "That's not a friendly Halloween thing," Long told WHDH. "That's kind of a nasty Halloween thing."
In a statement, Chuck Lietz, the owner and operator of the North Andover McDonald's franchise, said: "We deeply regret that these decorations were on display, and as soon as we identified the inappropriate content, we immediately removed the decorations display.
"Creating an environment that is welcoming and inclusive to all our guests and employees is critically important to us, and we apologize for any unintended offense they may have had on our community."
It is not clear if the McDonald's restaurant was provided the decorations or if they were placed there by someone who works for the franchise.
According to WCVB, some customers they spoke to were "split about whether the image is offensive."
"Halloween is associated with death in any number of horrible ways," tweeted Scott Macleod. "It's the season of gory horror movies after all."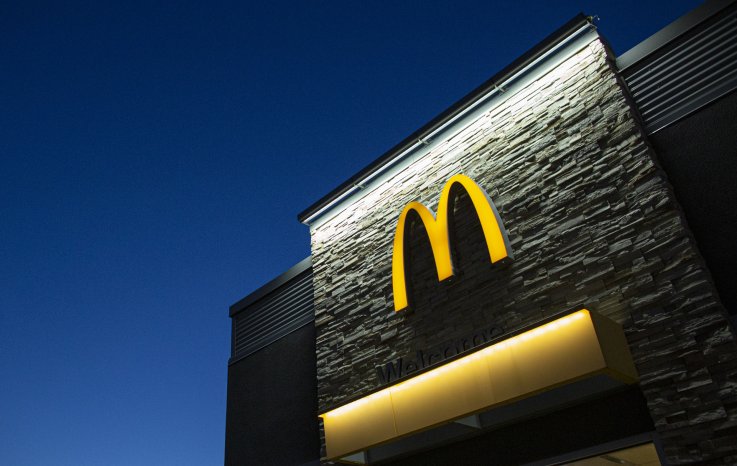 McDonald's Removes 'Lynching' Halloween Decorations From Massachusetts Store Following Complaints | U.S.