McDonald's HQ Raided in Food Poisoning Investigation of Alleged 'Hamburger Disease'
Prosecutors have relaunched an investigation of McDonald's in South Korea for its alleged connection to a recent case of the hemolytic uremic syndrome (HUS)—a life-threatening condition, dubbed the "hamburger disease", caused by a strain of E.coli.
The Seoul Central District Prosecutors' Office issued a seizure and search warrant of the McDonald's Korea headquarters in Seoul's Jongno district on Tuesday. It allowed authorities to obtain internal data and other documents relating to the cases, such as food material management books, South Korea's Kyunghyang newspaper reported.
In a statement to Newsweek, McDonald's Korea said: "Ensuring food safety and offering high-quality, safe menus to our customers are top priorities. McDonald's Korea is fully cooperating with the authorities on this matter."
The investigation first began back in 2017 following a complaint by a mother in the country who claimed her four-year-old daughter developed HUS after eating an undercooked meat patty sold by the fast food chain.
Subsequent complaints were filed by the parents of at least four other children who became ill after consumer burgers from McDonald's in South Korea.
In August 2017, patrons at a McDonald's in the city of Jeonju in South Korea's western region also reported stomach aches and high fever after eating bulgogi burgers. The chain temporarily halted sales of the burgers to determine the cause.
State prosecutors did not file charges against the burger chain due to insufficient evidence to support the allegations. Three officials from a McDonald's burger patty supplier were charged with violating hygiene control and food safety regulations.
The investigation was reopened last October after several activist groups filed a complaint against McDonald's Korea, the patty supplier and government officials over allegations which included a violation of the country's Food Sanitation Act and negligence, South Korea's Yonhap News Agency reported.
A settlement was reached last November with McDonald's Korea agreeing to pay for all medical bills for the child's treatment, including future expenses, Yonhap reported.
In a statement at the time, the company said: "The two sides agreed to focus on the child's treatment, without involving a third party or organization. The two sides agreed not to debate the issue any more."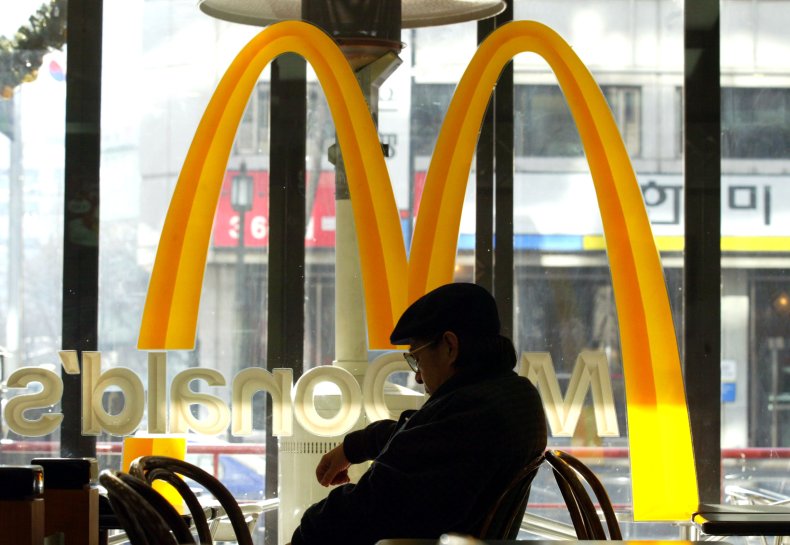 E.coli are found in the intestines of people and animals and can also be found in food.
"Two types of E. coli that cause diarrheal illness diagnosed in the U.S. are Shiga toxin-producing E. coli (STEC) and enterotoxigenic E. coli (ETEC)," according to the U.S. Center for Disease Control and Prevention (CDC).
"Most E. coli are harmless but some cause diarrhea, urinary tract infections, respiratory illness, bloodstream infections, and other illnesses. Around five to 10 percent of those diagnosed with STEC O157 infection develop HUS," the CDC notes.

This article has been updated with comment from McDonald's Korea.