When is the McRib Coming Back? McDonald's Sandwich Returns For First Time Since 2012
The McRib sandwich will return to McDonald's restaurants across the U.S. on December 2—marking the first time it has been available nationwide since 2012.
Since making its debut in 1982, the McRib sandwich has been one of the most limited-time McDonald's menu items offered around the world—though it is available in Germany all year-round.
But in the U.S., McDonald's fans have been waiting eight years for the McRib to be available across the country. Now, McDonald's fans can get the McRib from December 2 at participating restaurants via carry-out, Drive-Thru, the McDonald's app, or McDelivery.
For those who have yet to try the McRib, the long-awaited sandwich is made up of seasoned boneless pork in a smoky, tangy barbecue sauce, topped with slivered onions and tart pickles.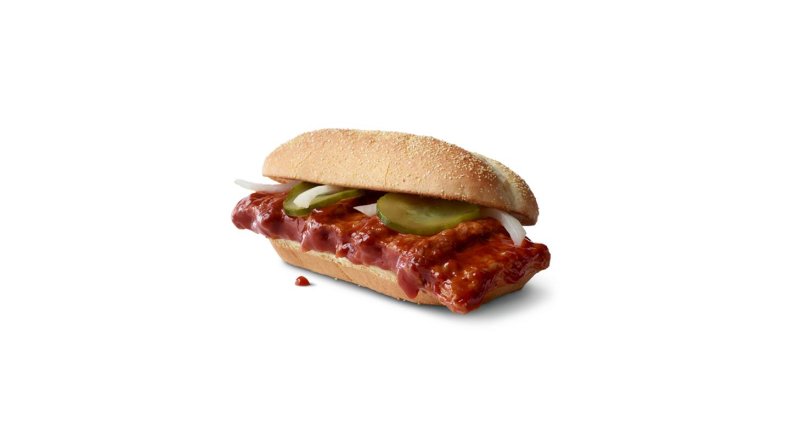 Vice President of Menu Innovation, Linda VanGosen, said in a statement: "The McRib has been a beloved menu item at McDonald's since its inception nearly 40 years ago.
"There's nothing quite like the taste of the McRib. To our customers, it's become more than a delicious, saucy moment...it's a season, and it's taking the internet by storm. That's why this year, we're proud to serve the McRib nationwide for everyone to enjoy."
Ahead of the launch on December 2, McDonald's is giving away 10,000 free McRibs in support of No-Shave November and cancer research on November 30. To win a free McRib, entrants have to share a photo of their clean-shaven or baby-smooth face to their public Twitter or Instagram profiles with the hashtag #Shave4McRibSweepstakes and by tagging @mcdonalds.
The first 10,000 people to do so will receive a code from McDonald's that will allow them to claim a free McRib on UberEats.
The giveaway ends on December 2, or when the 10,000 sandwiches have been claimed. Those who miss out on the giveaway can still take part in the McDonald's collaboration with No-Shave November, as McRib purchases on December 2 will go towards helping the charity's cancer initiatives.
Vice President of U.S. Communications, David Tovar, said in a news release: "Our bearded fans know... facial hair and the McRib just don't mix—believe me, I've tried.
"With the nationwide return of the McRib, we're helping fans enjoy every delectable moment by encouraging them to shave for a chance to win a free McRib. And we're excited this year to partner with No-Shave November, a charity that knows a thing or two about facial hair."
Senior Executive Director of No-Shave November, Monica Hill, added: "No-Shave November is a month-long journey where we ask participants to put down their razors and 'get hairy' in the name of cancer awareness.
"We're thrilled McDonald's is supporting this important cause, getting both the bearded and the non-bearded involved beyond November simply by purchasing a McRib."
The McRib will be available in participating restaurants in the U.S. from December 2.