McDonald's Employee Fired After He Was Filmed Choking and Punching a Customer Who Complained That the French Fries He Ordered Were Cold
A worker at a McDonald's branch in New Orleans has been fired after he was caught on camera choking and punching a customer.
Video shows the moments when the unnamed male staff member had an altercation with the man at the branch on the 700 block of Canal Street around 5 p.m. on Saturday night.
WWLTV reported that a witness said the customer had complained about his food order. The video shows the staff member at the restaurant getting out from behind the counter and shouting at the customer: "You gonna get out? Get out!"
The employee is then pulled away by a co-worker, but when the customer walks back towards him, the employee grabs the customer by the throat, slams him against the self-order kiosk and punches him in the head.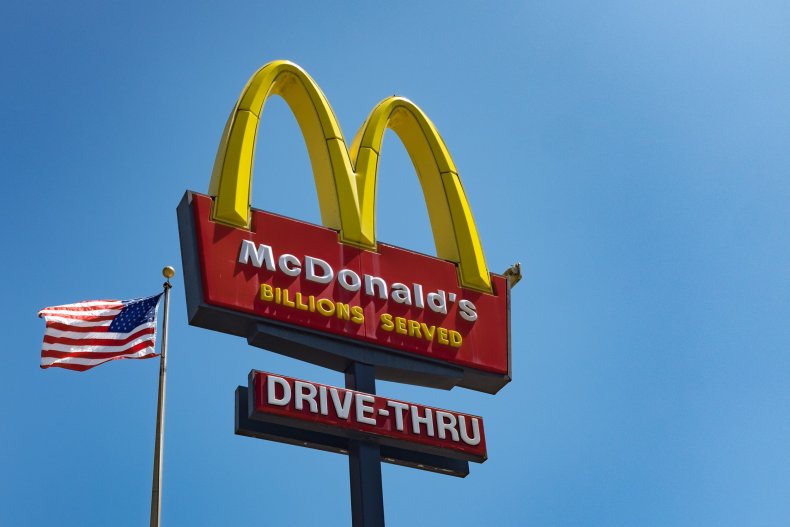 The victim is heard shouting, "What the f*** are you doing?!"
An unnamed witness told WWLTV the customer was unhappy that his food order was incorrect and was "upset over his fries," which were reportedly cold.
The witness said: "It was crazy, bizarre that it was happening. I could not believe that an employee could come out from behind the counter and start choking the customer.
"It was not acceptable, the guy (employee) definitely needs to be disciplined in some shape of form."
The customer, who was visiting New Orleans with his wife, admitted that he was abrasive to the staff, but he did not expect to be attacked.
"The customer is always right, even if he's wrong," the unidentified man told WWLTV.
He said he refused to fight back because he "didn't want to leave my wife alone in New Orleans if I went to jail."
Police arrived at the branch but filed no charges, according to NOLA.com, though their investigations are ongoing. The customer is demanding that charges are filed against the staff member.
In a statement to Fox News, the franchise owner Chris Bardell said it was investigating the incident.
"The behavior seen in this video is not what I expect from my employees. The crew member involved in this incident is no longer employed by my organization."
Last month, a McDonald's worker was fired for refusing to serve a paramedic in uniform because staff were not allowed to "serve badges."
Sunstar paramedic Anthony Quinn said the McDonald's employee in Madeira Beach, Florida, would not serve him and his colleague after telling both of them that "we don't serve your kind here."
"I tell her I'm not an officer. She then says anyone with a badge. Then says it to my partner as he walks in to order food, says we don't serve your kind here," Quinn said.