Are McDonald's Salads Safe? Recall Hits 3,000 Locations After Dozens Sickened By Parasite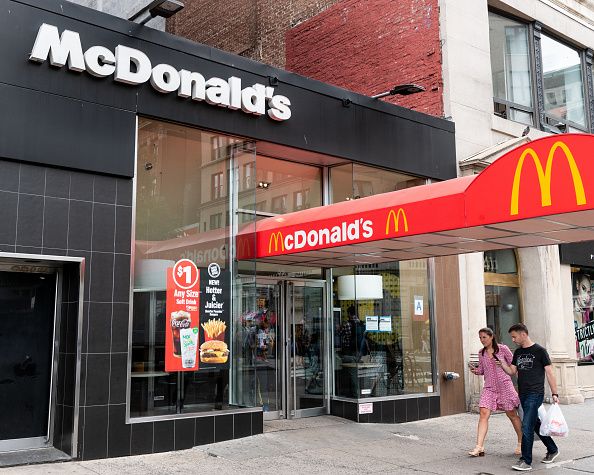 McDonald's has been forced to remove salad options from 3,000 locations across the Midwest after customers reported experiencing gastrointestinal illnesses.
At least 61 people in seven states have become sick from developing cyclospora infections after eating at the fast-food chain, according to the Centers for Disease Control and Prevention. Two of those people were hospitalized but no deaths have been reported.
People can get infected with the cyclosporiasis parasite by eating food or drinking liquids that have been contaminating with the bacteria, the CDC says on its website. While not everyone experiences side-effects, symptoms include loss of appetite, loose bowel movements, vomiting, fever and other flu-like symptoms.
As a result of these outbreaks, the Food and Drug Administration said it is working with McDonald's to see exactly what ingredients in the salads have been eaten by the consumers who became infected. That way, the fast food restaurant can trace those ingredients to their supplier.
But as of right now, the FDA has said that is "has not identified which of the ingredients used in the salads is the vehicle for this outbreak."
McDonald's said that it has removed salad options from locations that reported illnesses as well as restaurants that hadn't experienced problems but that had been receiving shipments from the same produce supplier. The chain pulled salads from 3,000 restaurants in Illinois, Iowa, Indiana, Wisconsin, Michigan, Ohio, Minnesota, Nebraska, South Dakota, Montana, North Dakota, Kentucky, West Virginia and Missouri.
"Out of an abundance of caution, we decided to voluntarily stop selling salads at impacted restaurants until we can switch to another lettuce blend supplier," McDonald's said in a statement released Friday.
McDonald's added that they are "committed to the highest standards of food safety" and are "closely monitoring this situation."
FDA Commissioner Scott Gottlieb tweeted about the outbreak on Friday, saying that there is still a lot to learn and that he appreciates McDonald's taking swift action.