McDonald's Shamrock Shake: Green Vanilla-Flavor Drink Goes on Sale For St. Patrick's Day
It's back! The iconic Shamrock Shake goes on sale today (February 19, 2020) at branches of McDonald's nationwide ahead of St. Patrick's Day.
The famous shake, which celebrates its 50 birthday this year, will be available across the country for the first time since 2017. It will also be joined by the new Oreo Shamrock McFlurry for a limited time, bringing together two fan favorites.
The Shamrock Shake is a vanilla drink blended with a "Shamrock flavor" and topped with a whipped topping for a delicious minty treat. "We've been serving the iconic, cult favorite Shamrock Shake for 50 years and it's become synonymous with McDonald's ever since," said McDonald's vice president of menu innovation, Linda VanGosen.
The new Oreo Shamrock McFlurry is a twist on a classic, according to the fast-food chain, and features creamy, vanilla soft serve with the Shamrock flavor plus Oreo cookie pieces blended throughout. This delicious mint chocolatey dessert is one for super-fans and newcomers alike.
"We're excited to serve up a new way to experience the one-of-a-kind Shamrock flavor in our new Oreo Shamrock McFlurry," explained VanGosen. "Our chefs worked to get the perfect balance of Oreo cookies and mint for this new delicious dessert.
"We can't wait for customers to get a taste this spring."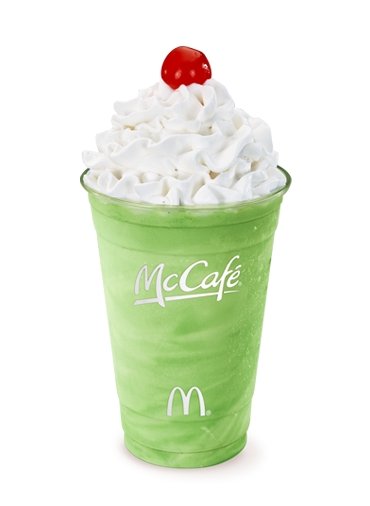 The Shamrock Shake was created in 1967 by Hal Rosen, a Connecticut McDonald's owner who made the delicious, mint shake in celebration of St. Patrick's Day. It debuted nationally in 1970 and was an instant success across the country.
McDonald's
The Shamrock Shake was created in 1967 by Hal Rosen, a Connecticut McDonald's owner, for St. Patrick's Day. It later debuted in select locations across the U.S. in 1970 and proved an instant success.
"Every year customers eagerly await the return of the Shamrock Shake and over the past five decades getting a sip of this green legend has become a seasonal tradition for many," said McDonald's archivist Mike Bullington. "The shake's unique history and widespread passion for this menu item have qualified the Shamrock Shake as a beloved cultural icon.
"We feel lucky to have such dedicated Shamrock fanatics, and hope to continue the legacy of this legendary treat for many more years to come."
In 1974, sales from the shake helped to build the very first Ronald McDonald House in Philadelphia. Together with Rosen, McDonald's popularizer Ray Kroc, the Children's Hospital of Philadelphia and the Philadelphia Eagles, enough funds were raised through Shamrock Shake sales to help open the first Ronald McDonald House as a way to keep families close during difficult times.
The Shamrock Shake and Oreo Shamrock McFlurry are available at all participating restaurants nationwide from February 19, 2020, for a limited time.