McDonald's Spicy Chicken McNuggets, Chips Ahoy! McFlurry Release Date, Prices
McDonald's is releasing three new products next month, and Chicken McNugget fans should get excited. The new Spicy Chicken McNuggets, which come with a new spicy dipping sauce, will soon be available at McDonald's restaurants nationwide.
To complement the spicy new menu items, McDonald's is also introducing a Chips Ahoy! McFlurry for a limited time.
McDonald's teased the launch on Thursday in four tweets depicting the four classic nugget shapes made out of the fire emoji.
New McDonald's Products
Spicy Chicken McNuggets
Mighty Hot Sauce
Chips Ahoy! McFlurry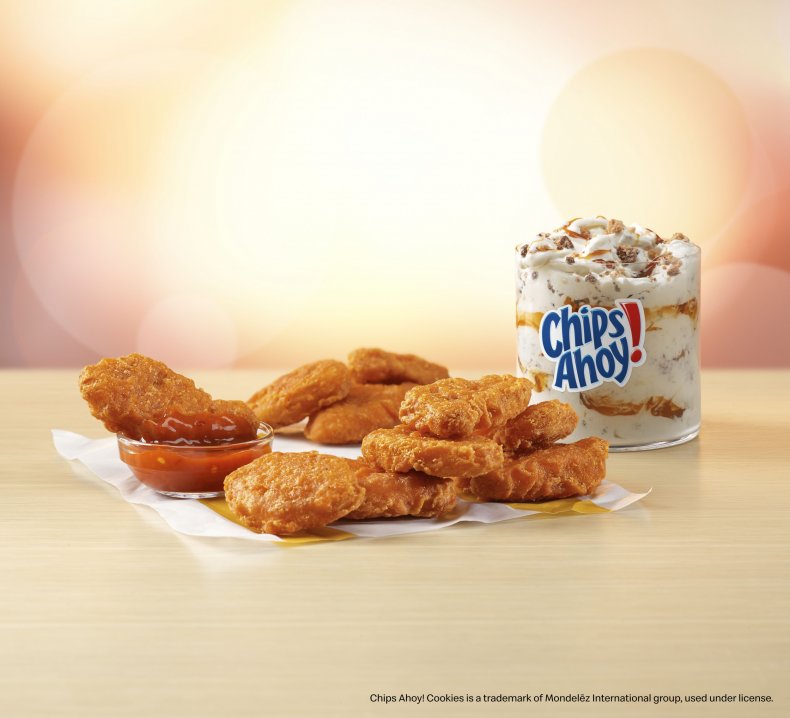 New McDonald's Products Release Date
From September 16, McDonald's fans will be able to enjoy three new products, including a twist on the classic McNuggets. The fast-food chain is launching the Spicy Chicken McNuggets, Mighty Hot Sauce, and Chips! Ahoy McFlurry in just three weeks' time.
However, fast-food fans will have to act fast if they don't want to miss out, as the products will only be available for a limited time.
Spicy Chicken McNuggets
The Spicy Chicken McNuggets are coated in a tempura batter made with both cayenne and chili peppers, and "bring the spice and flavor that McNuggets fans crave." The spicy treats are the first new flavor of the Chicken McNuggets launched in the U.S. since 1983.
Mighty Hot Sauce
The new Mighty Hot Sauce will, according to McDonald's, "undoubtedly have mouths steamin' as it dials up the spice," and is made of a blend of crushed red pepper and spicy chilis, balanced with savory garlic and a hint of sweetness. The Mighty Hot Sauce is McDonald's first new dipping sauce since 2017.
Chips Ahoy! McFlurry
The Chips Ahoy! McFlurry features vanilla soft-serve ice cream, caramel topping and Chips Ahoy! cookie pieces blended throughout. The Chips Ahoy! McFlurry will be available in both snack and regular sizes for a limited time at participating U.S. restaurants.
New McDonald's Prices
McDonald's prices vary by region and restaurant, which also applies to the new Spicy Chicken McNuggets and Chips Ahoy! McFlurry products.
Linda VanGosen, vice president of menu innovation at McDonald's, said in a press release: "This is the first time we've introduced a new flavor of our classic Chicken McNuggets in the U.S. since they came to menus in 1983.
"As our customers have been asking for Spicy McNuggets for some time now, we couldn't think of a better time to bring them to our menus. We can't wait for McNuggets fans to get a taste of these new spicy options."
While this is the first new nugget flavor launched in the U.S. since 1983, Spicy McNuggets are already available at international McDonald's restaurants. The nuggets are currently available for a limited time in the U.K. and were available for a limited time in Australia.
The latter country took things further and also launched three new chicken burgers with varying levels of spice: Spicy Mayo McChicken, the Jalapeno McChicken and the Sriracha McChicken, though McDonald's fans will have to wait and see if the U.S. will follow suit.