Are McDonald's, Wendy's Open On Thanksgiving? Fast Food Store Hours on Holiday
Thanksgiving is typically about cooking large meals for your whole family or a large group of friends. However, those not up for preparing a big dinner, or are just too impatient to wait, take out might be a good option.
Newsweek has rounded up which fast food restaurant chains will be open around the country on Thanksgiving Day 2018. Be sure to reach out to your local restaurant to confirm holiday hours, as it may vary at each location.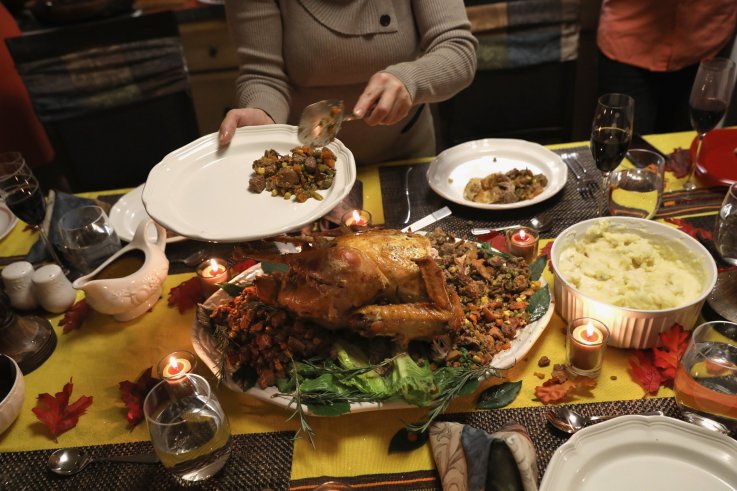 While Thanksgiving dinner is obviously the main event, breakfast on that day cannot be ignored. Anyone looking for a quick breakfast and coffee pick-me-up shouldn't be concerned. Both Dunkin' and Starbucks will be open as normal. Einstein's Bagels will also be open and should be operating on normal hours.
You can also grab coffee or last minute snacks at WaWa and 7-Eleven, which are both expected to be open 24/7. Holiday hours may be in effect, so be sure to call your nearest location to confirm.
If you are craving burgers and fries, you have a couple of options. Burger King will be opened on Thanksgiving Day, though certain locations might have limited hours. McDonald's also stays open during the holidays, as does Jack in the Box.
Other burger joints open on Thanksgiving include: Wendy's, Steak 'n Shake, Sonic Drive-In and White Castle.
Craving pizza? Papa John's Pizza, Domino's Pizza, Little Ceasars and Pizza Hut all plan to be open on turkey day. While the three pizza delivery restaurants will be open during the holiday, many locations will be operating on limited schedules, so be sure to call your local store for hours.
Looking for something that gets you some Thanksgiving sides without the turkey? Popeyes will be open on Thursday and has a number of family meals ranging from $12.99 to $37.99.
If Mexican food is more your speed, Del Taco and Qdoba will both be opened.
The following restaurant chains will be closed on Thanksgiving: Arby's, Baskin-Robbins, Ben & Jerry's, Blimpie, California Pizza Kitchen, Carl's Jr., Chick-fil-A, Chipotle, Church's Chicken, Dairy Queen, Jimmy John's, KFC, Panda Express, Panera, Red Robin, Subway, Taco Bell and Tim Hortons.
Are McDonald's, Wendy's Open On Thanksgiving? Fast Food Store Hours on Holiday | U.S.