McDonald's Sued After Alleged Parking Lot Attack by Shirtless Employee Enraged Over Burned Hash Brown Complaint
A Portland, Oregon couple is seeking monetary damages from McDonald's, after suing the restaurant chain over an alleged assault by a shirtless worker who was upset about a complaint concerning burnt hash browns, according to a Thursday report from Willamette Week.
Shaundra Graves, an off-duty manager at the restaurant, was visiting the location with her fiance, Cory Whitfield, August 24 while on maternity leave. The couple was accompanied by their newborn baby, along with Whitfield's daughter and her boyfriend.
Graves had gone to the restaurant to visit coworkers while on leave, when she is said to have complained about a batch of hash browns she noticed burning in the fryer.
After making the comment, a new employee at the restaurant, 33-year-old Christopher Lowman, allegedly became enraged.
"He just came unglued, he came over and started screaming and yelling and cussing," Whitfield, 42, told Willamette Week.
Whitfield attempted to calm down the man, but says Lowman then asked him to go outside for a fight. When Whitfield declined, Lowman allegedly left the restaurant, took off his shirt and waited by the man's car. Whitfield says he asked the manager on duty to intervene, without success.
"Of course I'm not going to go fight some guy in a parking lot. I'm not an idiot. There's other ways to settle things, this isn't the wild west anymore," Whitfield told the paper.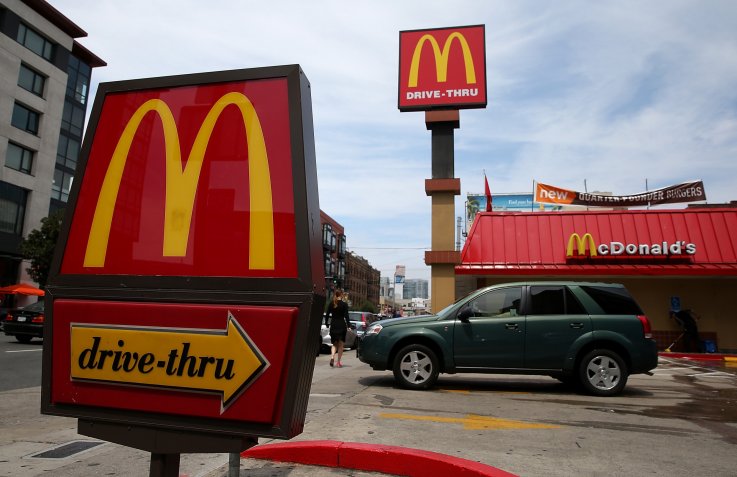 Landon Walker, the 17-year-old boyfriend of Whitfield's daughter, went to the parking lot a few minutes before being joined by Whitfield. At that point, Lowman allegedly attacked them while threatening to shoot the group with a gun he claimed to have inside the restaurant.
Walker held the man in a chokehold until he apparently "gave up." After being let go, Lowman allegedly attempted to attack Whitfield's daughter with a large rock, before being stopped again. A few minutes later, police arrived and arrested Lowman.
Prosecutors declined to file any criminal charges in the attack. The couple is seeking $400,000 in physical and emotional damages in the lawsuit, which was filed Thursday morning, accusing McDonald's of negligence, and Lowman of assault and battery.
The lawsuit claims that McDonald's should not have hired Lowman due to his apparently long history of violent criminal acts including assault, menacing, harassment, strangulation and unlawful use of a weapon. It also appears to hinge on the on duty restaurant manager's alleged refusal to intervene in the dispute.
"I've never seen one where management was asked to intervene and they flat out refused," the couple's lawyer, Michael Fuller, who bills himself an "underdog lawyer," told the paper.
Walker, who was allegedly injured in the attack, is consulting with Fuller over possibly filing a separate lawsuit. Graves is said to be considering a new job at the end of her maternity leave.
McDonald's Sued After Alleged Parking Lot Attack by Shirtless Employee Enraged Over Burned Hash Brown Complaint | News