McDonald's in Sweden Converting Billboards into 'Hotels' for Bees
McDonald's in Sweden is helping the country's flagging bee population with bee "hotels" embedded on the back of roadside billboards.
The campaign, launched in conjunction with outdoor-advertising giant JC Decaux, debuted this month on the reverse of a north-facing billboard in Jarfalla, about 20 minutes from downtown Stockholm. (Bees reportedly prefer hives that face south or southeast.)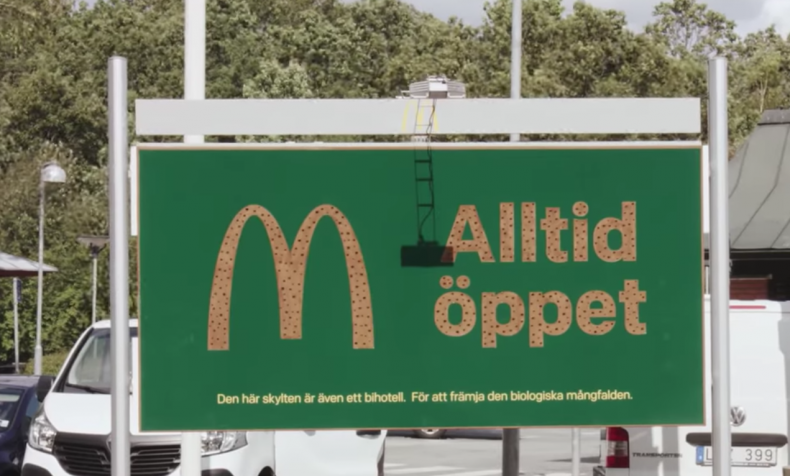 Six large permanent wooden bee hotels were mounted on the sign, with holes drilled in the words on front, which read "Always open."
"Without pollination from bees, a third of the food we eat would be threatened," read a statement from McDonald's Sweden. But at least 30 percent of the country's wild bee population is at risk, the fast-food chain adds. "A big problem is that they lack places to live."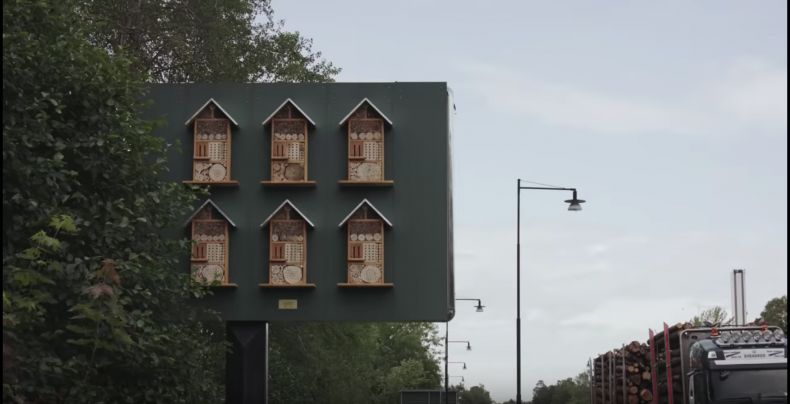 According to Chalmers Institute of Technology, there are 274 species of bees in Sweden—including 37 species of bumblebees—but more than a third are declining or expected to decline without intervention. The culprit is largely changes in agricultural practices and increased urbanization threatening their natural habitats. The good news is most bees can adapt to urban habitats, like the bee hotels.
According to McDonald's, all franchisees in Sweden "[will] have the opportunity to order their own bee hotel billboards and customize the messaging." The company hopes to scale up the number of boards hotels in spring 2020.
An English-language promo video posted on the McDonald's Sweden YouTube channel reveals the process used to create these apian accomodations.
The company has put a big effort behind bolstering bees: On World Bee Day, May 20, the company unveiled the McHive, a fully functional bee hive inside the "world's smallest McDonald's," actually a functional beehive.
Created in collaboration with creative agency NORD NDDB, the McHive was designed by set designer Nicklas Nilsson and auctioned off for $10,000 at a charity fund raiser for Ronald McDonald House.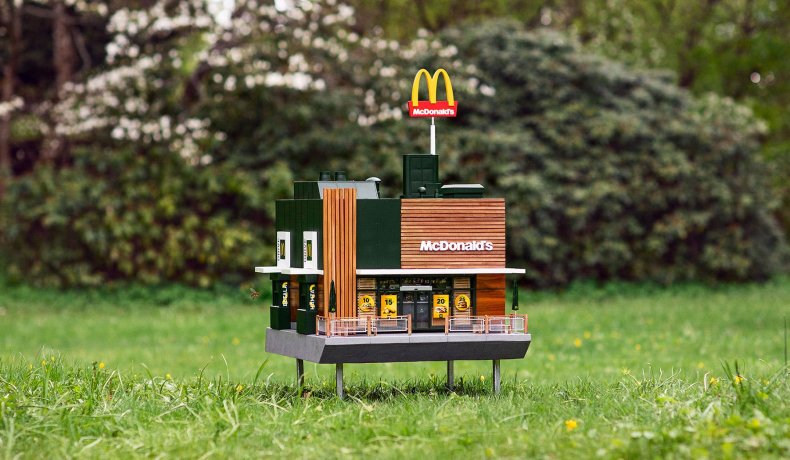 "Some of McDonald's restaurants in Sweden have beehives on their rooftops. The initiative started out locally but is now growing," NORD DDB wrote on YouTube. "[More franchisees around the country are joining the cause and have also started replacing the grass around their restaurants with flowers and plants that are important for the wellbeing of wild bees."
The fast-food chain has put its weight behind other environmentally minded initiatives in the country, as well: There are charging station for electronic automobiles in 55 McDonald's locations across Sweden, with plans to expand them to every drive-thru in the country. In Mjölby and Munkedal, the iconic Golden Arches indicate where customers can charge their cars, in addition to displaying the current price of a Big Macs or Happy Meal.
"McDonald's has a strong history of being involved in the development of charging infrastructure along Sweden's roads," said McDonald's Sweden marketing director Christoffer Rönnblad in a statement. "More and more people are choosing to travel by electric vehicles, and we want to be a part of this trend by inspiring good choices. Our sign is a new and fun take on a classic way of doing just that."
However, it's not just bee populations that are on the downswing. The following chart from Statista shows just how various insect populations have dwindled in recent years.