McDonald's TikToker Angers Viewers With 'How We Make Our Large Fries'
A self-described McDonald's employee has caused disagreement among commenters by posting a video that allegedly shows a way for the fast-food restaurant's employees to serve fewer fries when customers order a large-sized container.
@nnennaaaa6, a TikTok user with over 12,000 followers, posted a video that shows them scooping up fries in a mostly empty silver heating tray, then depositing the fries into a large container. However, the employee appears to not unfold the container to its full size.
The text laid over the TikTok video reads, "How we make our large fries ... don't open the cardboard all the way saves you more fries for others."
An order of large fries at McDonald's is supposed to weigh approximately 150 grams, which converts to roughly 5.3 ounces or a third of a pound. An unscientific investigation by the U.K.-based news site Leicestershire Live found that two McDonald's locations in England served anywhere between 84 to 100 fries in their large containers.
Newsweek contacted McDonald's for comment.
Numerous TikTok commenters on the aforementioned video expressed anger at being "ripped off." Others asked why fast-food employees can't simply refuse to sell large sizes if they don't have enough food to fill the containers.
Other commenters who claimed to work at McDonald's said that they were trained to not completely unfold large fry containers in order to conserve fries.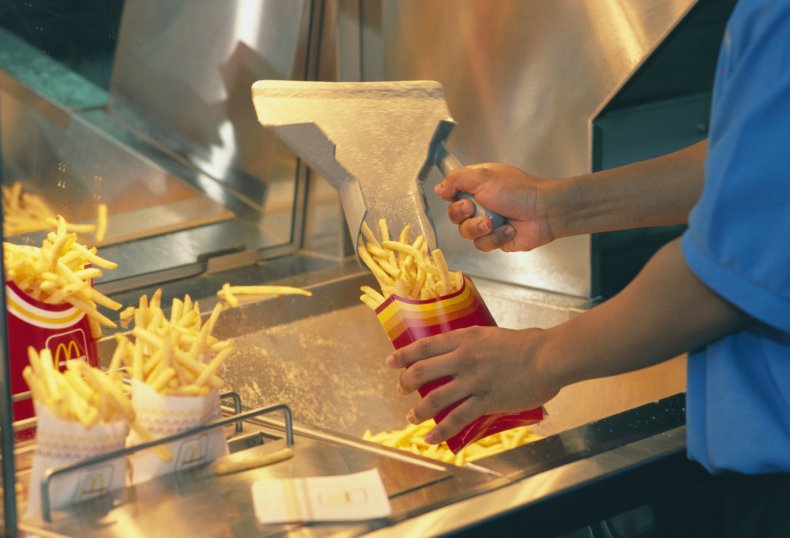 In response to the video, one TikTok commenter named Wilton In Real Life wrote, "Wrong. I worked at McDonald's for 6 years and our head manager would have had our heads if we had tried to pull something like that."
Someone responding to their comment pointed out that perhaps the practice only applied to the McDonald's location where the TikTok user works.
Another commenter named tiffanyhudkins wrote, "not all mcdonalds are lazy, you guys are giving all us other hard workers a bad name!"
Internationally, McDonald's is facing a potato shortage that has limited the sale of large fries in its Japanese and Malaysian locations, according to the ViacomCBS news site PopCulture.com.
The shortage in the Asian countries was caused by a delay in potato shipments caused by "large-scale flooding near the Port of Vancouver ... and the global supply chain crunch caused by the coronavirus pandemic," McDonald's Japan CEO Tamotsu Hiiro announced at the end of last month.
From December 24 to December 30 last year, Japanese McDonald's locations only sold small portions of fries.
On January 24, 2022, McDonald's Malaysia informed customers that locations would temporarily halt the sale of large fry portions. The country's locations continued selling medium- and small-sized portions.
U.S. McDonald's locations haven't been affected by the potato shortage.