Uber Eats Overrun With McDonald's Orders and Unable to Cope
Uber Eats has become overrun with McDonald's orders and is "unable to deliver to people down the road" according to frustrated customers.
The app even reported that an address next door to an open McDonald's was "too far away" to deliver to.
The fast-food outlet announced that 39 Drive-Thru restaurants would be opening this week in both the UK and Ireland for deliveries and takeaways, after trialing 15 pilot restaurants in the South East of England earlier in the month.
In a statement released on its website, McDonald's said it was trying to adjust to smaller teams and social distancing in its kitchens.
Customers had been waiting with much anticipation for local branches near them to open, however some have been left disappointed after being told by Uber Eats that where they lived was "too far for delivery" despite customer's saying they were only a few minutes away and couldn't understand why they could order from "the next town over".
In a test conducted by Newsweek, Uber Eats was unable to deliver to an address next door to the restaurant ordered from, saying it was "too far away" from McDonald's.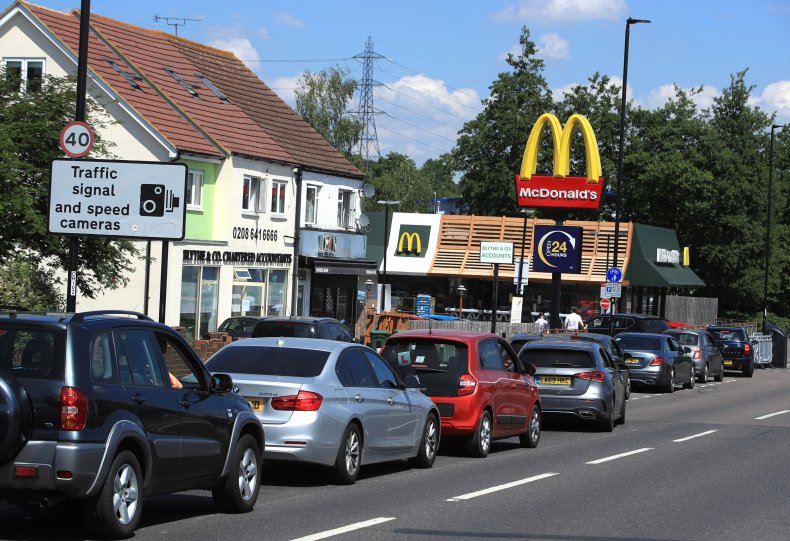 One user wrote on Twitter: "Absolutely devastated. Found out my local McDonald's is open for delivery but UberEats says it's "too far away" - IT IS LITERALLY DOWN THE STREET FROM HERE.
"How is it that I can order something from the next town over, but not from down the road?"
In response, McDonald's Twitter UK replied: "Hi, our pilot restaurants are operating differently, with social distancing and smaller teams, this means we are unable to process as many delivery orders as usual.
"Please bear with us as we adjust to the new ways of working and prioritize the safety of our people."
Other users reported a similar problem.
Sarah Hardy tweeted: "Hello @McDonaldsUK @ubereats_uk, I live 1.1 miles away from McDonalds Welling, but I'm too far away for delivery? How close do I have to be to get a delivery?"
In a statement posted by McDonald's, the company said it was reopening 39 Drive-Thru lanes at restaurants across the South East of England and in Dublin as it continues to test its plans for reopening.
"Our teams are still adjusting to the new procedures we've introduced to enable safe working and social distancing, so things might take a little longer.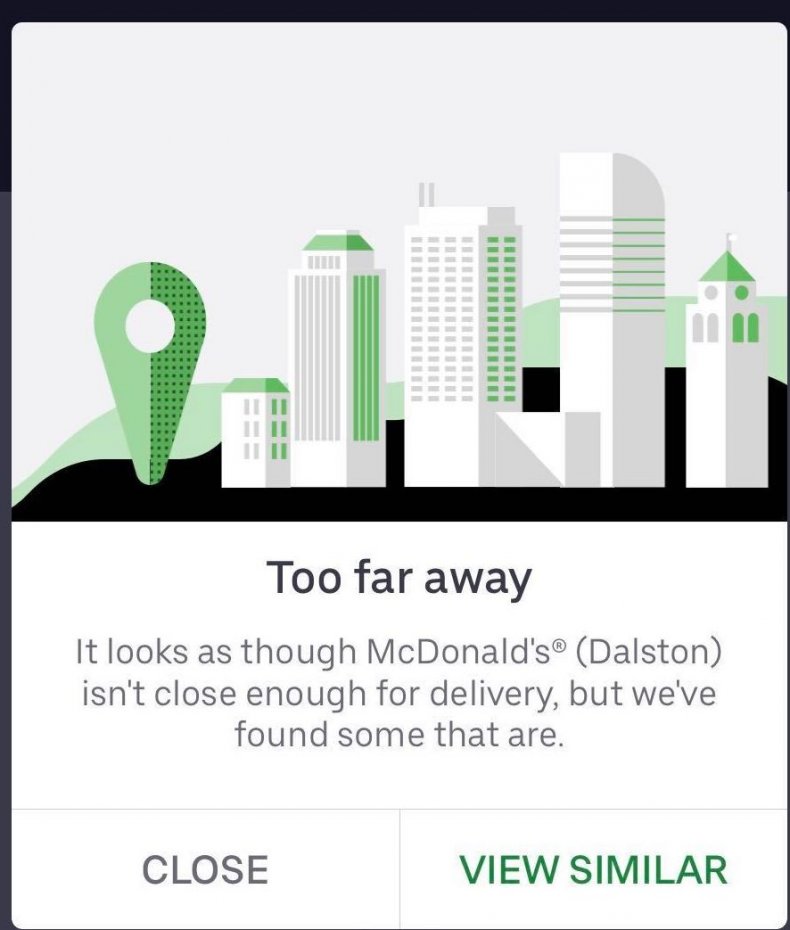 "We expect a high demand across all locations. We are working closely with local authorities and we may determine that it is necessary to close our Drive-Thru lanes if queues cause disruption or put our employees or customers at risk.
"We are aiming to reopen all Drive-Thrus by early June and hope to see you soon."
When Newsweek spoke to Uber Eats, it had a very similar response.
An Uber Eats spokeswoman said: "As some McDonald's stores begin to reopen in the UK, demand is very high, and we urge customers to be patient as we work with McDonalds to help to ensure that orders are fulfilled.
"When a restaurant has reached capacity it will not be visible in the Uber Eats app. We would encourage customers to check later when there may be availability."