McDonald's Worker in Memphis Admits to Pointing Gun at Customers: Police
A McDonald's employee in Memphis, Tennessee, admitted to police that he pointed a gun at three customers early Saturday morning and asked them to leave the restaurant.
Taurean Moy, 20, was working at the fast food restaurant when the women walked in after 4 a.m. through an unlocked door and approached the counter to order food, Fox 13 Memphis reported, citing an affidavit.
One McDonald's worker asked the customers to wait, but a few minutes later Moy showed up from the kitchen allegedly holding a handgun with a red T-shirt on the handle. A spokesperson with the Memphis Police Department told Newsweek on Sunday that the suspect escorted the women out of the restaurant while "brandishing" a handgun, but never fired it. No injuries were reported, according to the police.
"The suspect fled the scene but was later arrested at 696 East Georgia Avenue," the spokesperson added.
No other details were revealed about the events that led up to the worker pointing the gun at the customers. Moy, whose actions were filmed on video surveillance, is held on a $25,000 bond and set to appear in court on Monday.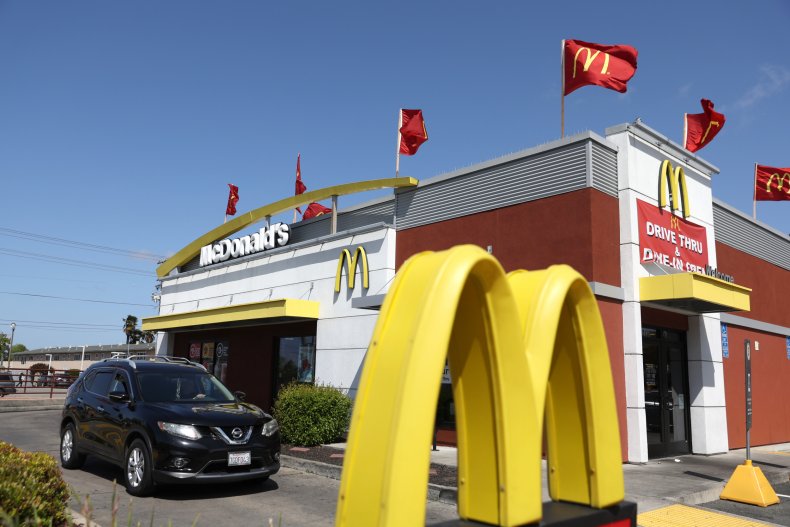 Authorities said that he waived his Miranda rights and confessed his actions in a video statement. He was then charged with three counts of aggravated assault and one count of evading arrest.
Newsweek reached out to McDonald's for comment.
Past Disputes at McDonald's
Similar confrontations involving customers and restaurant employees happened recently, including an incident when a McDonald's worker allegedly shot his manager several times before fleeing the restaurant in Atlanta on Friday afternoon, according to police.
The manager, identified as Elizabeth Williams, was having a dispute with the employee, who was not identified, before she was shot. The details of the argument were not publicly known.
In April, a man was in critical condition after he was shot following an argument that initially happened inside a McDonald's and then moved outside in Dekalb County, Georgia. Police said they found the victim with an apparent gunshot wound in the parking lot.
Also in April, a Florida woman exchanged gunfire with police deputies during an armed robbery at a McDonald's in Orlando. The standoff between the woman and the officers lasted for over six hours before she eventually surrendered.
In addition, a McDonald's employee in Gambrills, Maryland, was fatally shot last month at a drive-thru window in what police believed was a targeted incident instead of a random act of violence. Police said that the suspect never entered the restaurant at the time of the shooting, which happened around 5 a.m.
Update 6/5/22, 4:50 p.m. ET: The story has been updated to include comment from the Memphis Police Department.