McDonald's Worker Kills Colleague in Deadly Restaurant Confrontation, Police Say
A McDonald's employee has been charged with aggravated murder after a colleague was fatally injured in a shooting at one of the fast-food chain's Ohio restaurants.
Christopher L. Riddick, 34, was arrested after the confrontation at lunchtime on Thursday in the McDonald's on Howe Avenue, Cuyahoga Falls.
Police said he shot a co-worker in the chest and ran from the scene, but was arrested a short time later.
Officers were called to the restaurant at about 1:30 p.m. after reports of gunfire.
The victim was taken by the Cuyahoga Falls Fire Department to the nearby Summa Akron City Hospital, where he was pronounced dead. His identity has not yet been released as officers are notifying his family.
No other injuries were reported by the City of Cuyahoga Falls Police Department.
Riddick is scheduled to appear in Stow Municipal Court on Friday charged with aggravated murder. Police said additional charges were possible. A motive has not been released.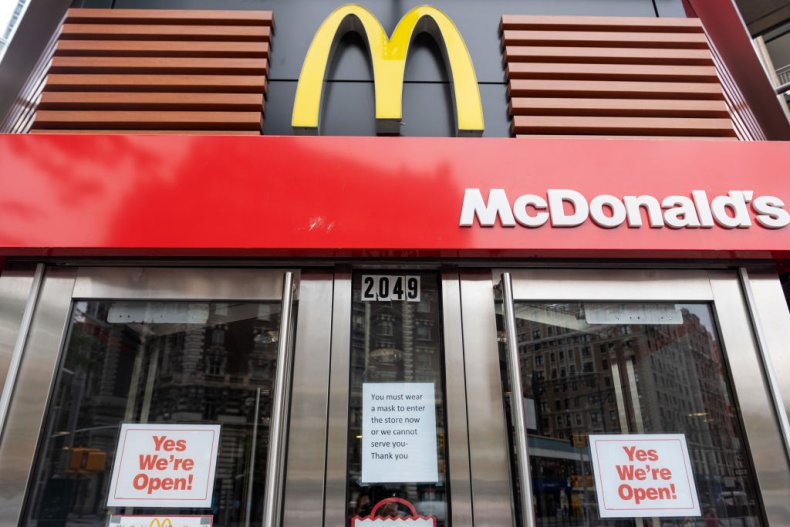 McDonald's has released a statement saying it is helping police with the investigation and will provide support to employees.
"Our hearts are heavy with the loss of our incredible team member as a result of this senseless and tragic incident," read the statement, published by the Fox19 Now news outlet.
"Our thoughts are with our employee's family and loved ones at this difficult time. We are in the process of offering our employees counseling and any other support they may need at this time and are working with law enforcement in their ongoing investigation."
Newsweek has contacted the Cuyahoga Falls Police Department for comment.
Crime statistics released by the police department showed there was just a single murder in the city in 2020. There were no murders reported in Cuyahoga Falls the previous year.
According to the Criminal Defense Lawyer website, a person convicted of aggravated murder in the state of Ohio faces potential penalties ranging from death to life in prison with or without the possibility of parole, and a fine of up to $25,000.
Several factors must be present for a killing to be elevated to aggravated murder, according to a blog post published by Ohio law firm Rion, Rion & Rion. These include premeditation, if the person killed is under 13 years of age or if the victim is a law enforcement officer or a first responder.
The charge can also be applied if the killing was carried out at the same time as one of a number of other offenses, such as kidnap, rape, arson or burglary.