McDonald's Worker Shot by Drive-Thru Customer Angry About French Fries Order: Police
A woman in St. Louis County, Missouri, is accused of shooting a McDonald's employee after a dispute over french fry discount, authorities say.
The incident occurred when the woman, Terika Clay, 30 was arguing with the employee at the drive-thru window, Missouri news station KMOV reported, citing court documents.
The employee later went out for a smoke break and the dispute continued. Clay allegedly hit the employee in the head with a gun before shooting, KMOV reported.
Police say that the incident was recorded on video on Wednesday. Clay has been charged with first-degree assault and armed criminal action, and her bond has been set at $150,000.
Local news outlets haven't reported on the status of the victim. But according to news station KTVI, a judge has said that if Clay is released on bond, she must avoid contact with the victim and other employees at the McDonald's. She also must stay at least 1,000 feet away from the restaurant.
Newsweek reached out to police and prosecutors in St. Louis County for comment and additional details about the case, but did not receive a response before publication on Saturday morning.
In separate incident on January 13, an employee at a Wendy's restaurant was shot in the head after an argument over barbecue sauce. Police say that a customer at the window asked for extra sauce, which led to a confrontation. The customer allegedly fired into the store, injuring the employee Brian Durham Jr., 16. The teen survived, though a bullet grazed his brain, and his father said he may have permanent damage to his cognitive abilities.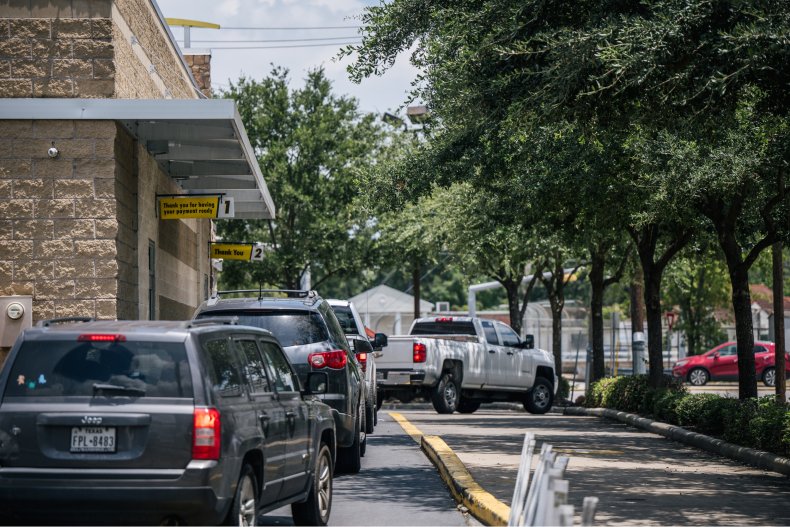 In December,a woman in Ohio allegedly opened fire into the drive-thru lane at a Wendy's restaurantbecause she was upset at how long her order was taking. No one was injured during the shooting.
Another high-profile shooting took place at a Taco Bell drive-thru this month. Police in Los Angeles say a man shot dead a Taco Bell employee after the worker refused to accept a counterfeit bill as payment on January 8. Days later, police arrested a 39-year-old man in connection with the killing, NBC Los Angeles reported. The 41-year-old employee was shot multiple times and pronounced dead at the scene.