McDonald's Workers Sue Alleging Managers Won't Let Them Socially Distance
On Tuesday, five McDonald's employees at four different Chicago locations sued the national fast-food chain in an Illinois county court for "failing to take important steps to contain [coronavirus]" during the ongoing epidemic.
The lawsuit, for which the employees are seeking class-action status, alleges that the company's actions violate state nuisance and negligence laws. It follows the company's release of a 59-page document last Thursday instructing managers and staff how to re-open dining rooms now that numerous states are allowing restaurants to do so at reduced capacities.
The plaintiffs allege that McDonalds has failed to provide "adequate protective equipment, hand sanitizer, and safety training for employees" and is not "enforcing safety protocols" that would help distance employees from potentially infected co-workers, something that they say is impossible in the fast-food chain's crowded kitchens.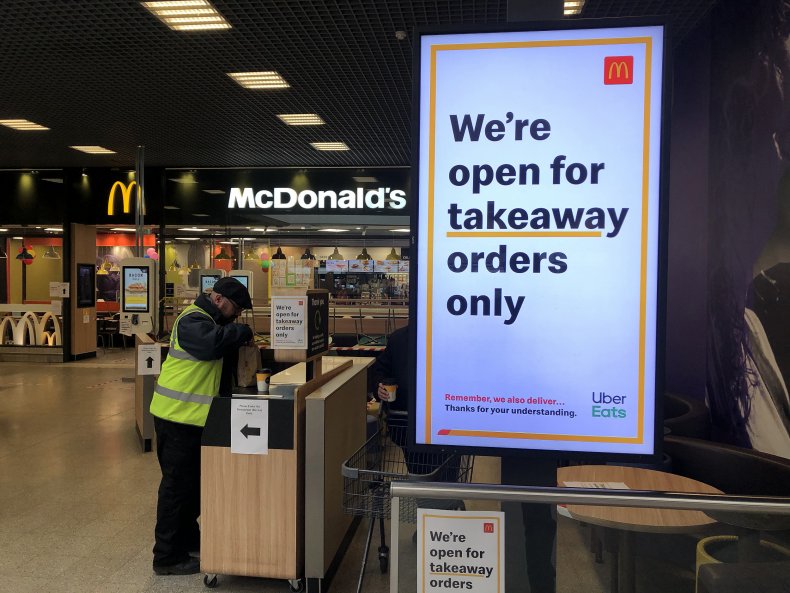 Employees allege managers are telling them reuse gloves and claim that physical distancing isn't required as long as interactions with others remain under 10 minutes. Another allegation says that managers didn't inform laborers that their coworker had contracted COVID-19.
"The damage done by McDonald's decisions is not confined to the walls of its restaurants, but instead has broader public health consequences for the Chicago community, the State of Illinois, and the entire country," the lawsuit said.
In response, the company issued a statement declaring that it has instated 50 new safety measures and distributed more than 100 million non-medical grade masks to workers to prevent COVID-19 transmissions. McDonald's also says the company has instituted "wellness checks, protective barriers, adhering to social-distancing guidelines for customers and crew, using gloves and masks, increasing the frequency of handwashing and moving to contactless operations," according to its statement.
The company's 59-page guide to reopening its restaurants instructs staff to enforce social distancing between patrons, to disinfect public bathrooms every 30 minutes and to turn off soda fountains if no employee has been assigned to oversee them.
McDonald has also said its drive-thrus and front counters will have protective plexiglass panels installed and that all restaurant dining rooms nationwide will under deep cleaning before reopening. However, the restaurant's playplaces for children will remain closed for the time being.
"Crew and managers are the heart and soul of the restaurants in which they work, and their safety and well-being is a top priority that guides our decision making," McDonald's USA said in a statement.
Newsweek reached out to McDonald's for further information. This story will be updated with any response.