If you look at the news, it's likely you'll see a story about how companies like McDonald's are struggling to find and hire workers. Some McDonald's locations are offering $500 or even $1,000 signing bonuses for new employees. One Florida store is offering a McChicken sandwich and another $50 to people who just sit down for an interview.
I work at McDonald's. And when I see those kinds of stories, I just have to shake my head. McDonald's seems confused about how to attract new workers when there's a very simple solution to their problem—one that workers like me have been demanding for years: Pay us a living wage.
It's time for McDonalds to pay every worker who wears the McDonald's uniform at least $15 an hour.
I joined my colleagues in 15 cities across the country in a strike last year because we know a one-time $500 bonus is no substitute for a 365 day a year raise. We know a McChicken sandwich is no substitute for respect, dignity and a voice on the job through a union.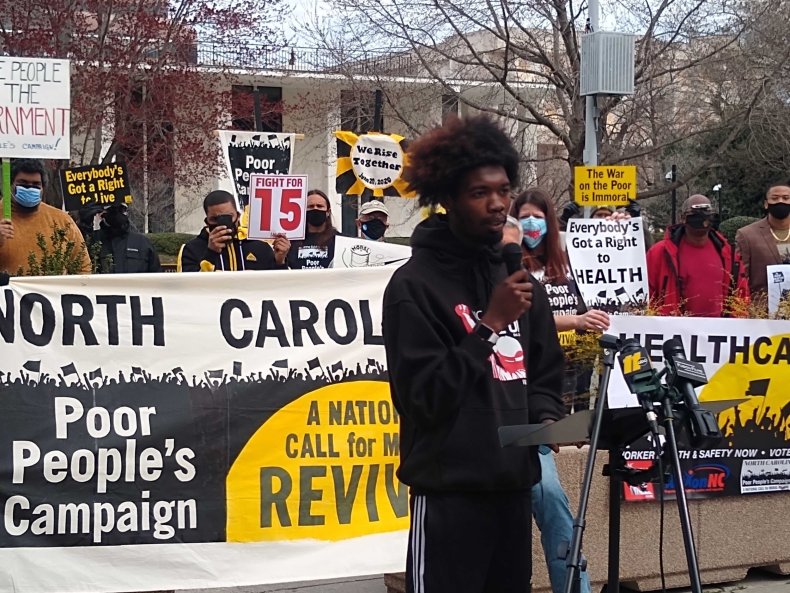 In a move meant to attract more workers, McDonald's recently announced it would raise pay for some employees. What they didn't mention is that the vast majority of us who work in franchise stores won't be affected by the pay raise.
And we know that McDonald's can raise wages for all employees, even those who work in franchise stores, because they already have multiple policies in place that apply to every store nationwide. McDonald's already controls countless minor details of how franchise stores operate, from the uniforms we wear to the way we prepare Big Macs. Just last month, they announced new policies around sexual harassment that apply to franchisees. By that example, they should be able to push their franchisees to raise our pay.
Costco, Amazon, Starbucks, and Target have all raised their wages to $15 an hour. McDonald's: It's time to do the same.
We want to make our voices heard loud and clear because last Thursday, McDonald's held its annual shareholders meeting. They celebrated the fact that last year they made nearly $5 billion in profits. McDonald's was able to dish out billions of dollars worth of dividends to its investors and reward CEO Chris Kempczinski with more than $10.8 million in total compensation.
What McDonald's executives probably didn't mention at the meeting is how frontline cooks and cashiers like me had to go on strike to demand basic precautions to keep ourselves safe during the pandemic and decent pay so we don't have to rely on public assistance to support our families. They didn't mention that $15 an hour is the bare minimum workers anywhere need to survive.
McDonald's's bottom line may be doing fine, but we workers are not. Too many of us are barely making enough to keep the lights on. Black and brown communities are still struggling to recover from the COVID-19 crisis. I worked throughout the pandemic and kept our store running even when several coworkers came down with COVID-19, because McDonald's does not give us paid sick days and I couldn't afford to miss a paycheck.
I often work double shifts, standing on my feet for 16 hours at a time, trying to bring home a little more money. I have dreams of going to nursing school and getting my degree, but McDonald's wages are holding me back. Even with a recent 70 cent raise, I earn $9.20 per hour. It's nowhere near what I need to make ends meet, let alone afford college classes. I know that McDonald's can afford to pay all of us $15.
Our demands are not extreme. President Biden has repeatedly called for a $15 minimum wage and polls show it is wildly popular across the country. But McDonald's does not have to wait for Washington. They don't need to wait for permission. $15 an hour for McDonald's workers can happen now, without having to fix our broken politics first.
Considering the enormous profits we generate for the company with our labor, I'd say it's in their best interests as well as ours.
We know too that McDonald's will not suffer from raising our wages; in a call with investors earlier this year, McDonald's CEO Chris Kempczinski said, "McDonald's will do just fine" if the minimum wage.
I urge him to do it. Because right now, workers are not fine. We're struggling to survive. We are trying to live on poverty wages, breaking our backs to support our families.
Nahshon Blount works at McDonald's. He lives in Durham, North Caroliona.
The views in this article are the writer's own.