McEnany Says 'Come Work at the White House' If You Want Details About Trump's Health Care Plan
White House Press Secretary Kayleigh McEnany told reporters on Wednesday that if they wanted to know about President Donald Trump's new health care proposal, they would have to take a job with his administration.
Trump announced that his long-promised health care plan was "all ready" during a town hall with undecided voters in Philadelphia on Tuesday.
"I have it all ready," the president said. "I have it all ready and it's a much better plan for you and it's a much better plan."
One day later, McEnany declined to release further details surrounding the specifics of the proposal.
"Here at the White House we have a wide array of people working on it. There have been elements of it that have already come out," she said. "There's more that will be forthcoming."
"Our domestic policy council and others are working on a health care plan," Trump's press secretary added.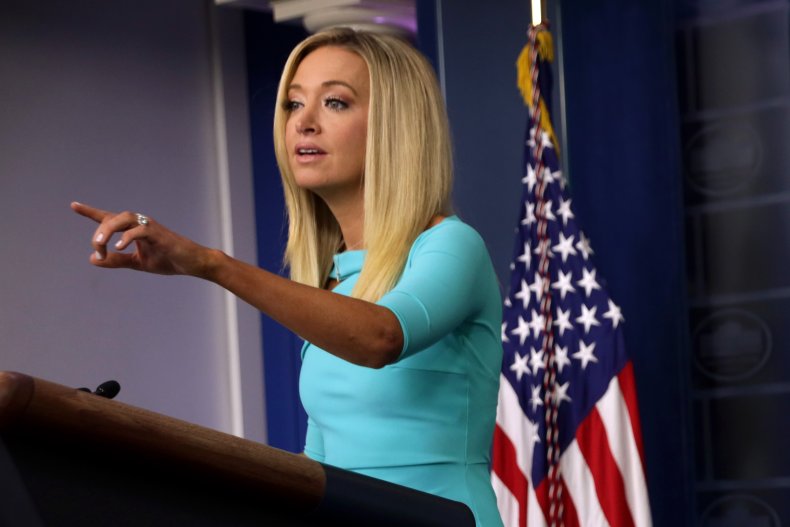 When asked by a CNN reporter Kaitlin Collins to list who was involved in crafting the proposal, McEnany encouraged her to work at the White House to find out.
"I'm not going to give you a readout of what our health care plan looks like and who's working on it," she said. "If you want to know, come work here at the White House."
The Trump administration filed a brief in the U.S. Supreme Court to overturn the individual mandate in the 2020 Patient Protection and Affordable Care Act, commonly known as the Affordable Care Act or Obamacare. Under that mandate, U.S. residents are required to purchase health insurance or face a tax penalty for failure to comply.
Trump called the comprehensive health care reform law "a disaster" during the town hall on Tuesday.
"Obamacare was too expensive, the premiums are too high," the president said. "It's a total disaster. You're going to have new health care and the pre-existing aspect of it will always be in my plan. I've said that loud and clear."
In August, Trump said he was pursuing a "major executive order requiring health insurance companies to cover all pre-existing conditions for all customers." That same month, he told reporters that his health care plan was "tremendous" and will be released "hopefully, prior to the end of the month."
"This has never been done before," the president added, "but it's time the people of our country are properly represented and properly taken care of."
However, the administration hasn't confirmed any specific details about the plan.
Newsweek reached out to the White House for comment.