Amy McGrath Raises Record $2.5 Million in First Day of 2020 Senate Campaign Against Mitch McConnell
Kentucky Democrat Amy McGrath has raised a record amount of money in the first day of her Senate campaign against Republican Majority Leader Mitch McConnell to kick off what is likely to be the most closely watched congressional race of the 2020 election cycle.
McGrath's campaign told NBC News on Wednesday that more than $2.5 million was raised in the first 24 hours of her congressional bid with the average donation to the campaign being $36.15. According to Mark Nickolas, McGrath's campaign manager, it was the most money ever raised in the first day of a Senate bid.
McGrath, a 44-year-old Marine Corps veteran, launched her campaign to unseat McConnell on Tuesday morning. In a video announcement, which has garnered over 4.3 million views on Twitter, McGrath slammed the top Republican for turning Washington D.C. into "something we all despise" and "where ideals go to die."
In the film, McGrath also described how she once wrote a letter to McConnell when she was a teenager explaining how she wanted to be a fighter pilot. At the time she wrote the letter, women were still excluded from serving in military combat. McGrath said that the Republican never answered.
"I'm Amy McGrath, and I've often wondered, how many other people did Mitch McConnell never take the time to write back (to) or even think about," she said.
McGrath served in the Marines for two decades and was the first female pilot to fly a fighter jet into combat. She flew nearly 90 missions, including bombing Al-Qaeda and the Taliban. After retiring in 2017, McGrath ran a strong campaign against Republican Andy Barr in Kentucky's 6th Congressional District during the 2018 midterm elections. She ended up losing the race by three percentage points.
McConnell's re-election campaign immediately fired back at McGrath's message with a video denouncing her progressive stance on universal health care and reproductive rights. The video, posted to Twitter, was accompanied by the caption: 'Welcome to the race, Amy."
McConnell's 2020 campaign manager Kevin Golden has called McGrath an "extreme liberal" who is "out of touch" with Kentucky voters.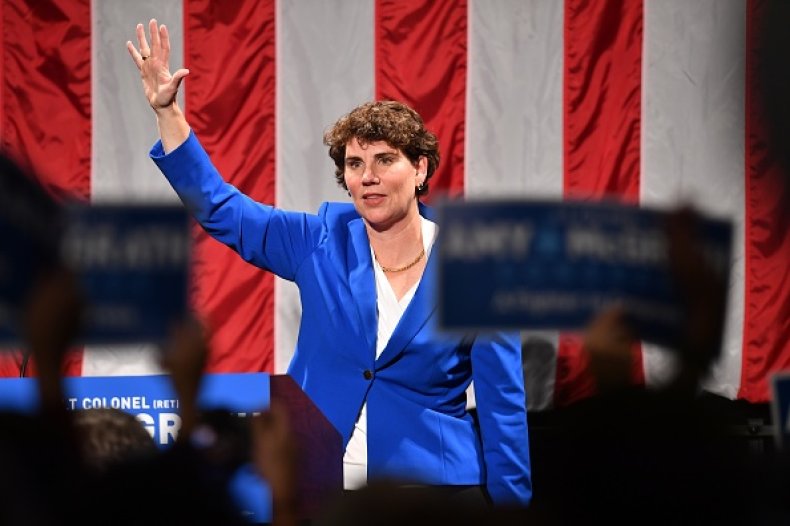 But McGrath's 2018 congressional race was nearly the biggest upset of the election cycle. In a district voted for Donald Trump by 15 points in 2016, McGrath lost to her Republican opponent by only three percentage points.
Plus, over his six terms in Congress, McConnell has become the least popular senator in the country. According to polls from Morning Consult, just 36 percent of Kentuckians approve of McConnell while 50 percent disapprove.
Still, McConnell is the most powerful member of the Republican Party in Congress. He is also likely to have a hefty war chest going into the 2020 election cycle. In 2014, McConnell raised in spent over $30 million in his re-election bid.