McGrath Staves Off Booker in Kentucky Senate Race to Challenge McConnell
Amy McGrath's hefty investment in Kentucky's Democratic primary paid off.
The Associated Press called the race for the former fighter pilot on Tuesday—a victory that lands her a direct challenge to unseat Senate Majority Leader Mitch McConnell in the general election.
"I'm humbled that Kentucky Democrats have nominated me to take on Mitch McConnell in the general election and can't wait to get started in sending him into retirement and finally draining the toxic Washington political swamp that he built," McGrath said in a statement shortly after the race was called.
It took a week for the final results of the contested June 23 primary to be announced due to the massive increase in absentee voting. State officials had allowed every resident to vote by mail in order to maintain public health amid the coronavirus pandemic.
McGrath fended off a serious surge from her Democratic rival Charles Booker, a young state lawmaker who broke out late in the primary amid a growing racial-justice movement in the Commonwealth following the police shootings of two Black residents. McGrath spent more than $3 million in radio and television advertisements in the final week leading up to the primary to stave off Booker. Overall, she spent roughly $12 million in the primary.
At one point Booker was ahead of McGrath for several days as results kept trickling in. Final results showed Booker dominated the race in Jefferson and Fayette, the state's two most populous counties, while McGrath won more rural areas. McGrath congratulated Booker for his "very impressive result" on Tuesday and said she hopes to turn to him and her other rivals for their "help, guidance and advice for the fight ahead of us."
But McGrath was always the candidate to beat. She was one of the top recruits of the national Democratic Party for the 2020 election cycle after her star-making—but unsuccessful—congressional bid in 2018. She also always had more cash on hand than all of her opponents combined.
In fact, she was the only Democrat who could give McConnell a run for his money—literally. McGrath has more than $19 million in the bank, according to the latest campaign finance filings. The Senate majority leader, however, has $15.4 million. Experts have predicted that the race between them could be one of the most contentious and expensive of the 2020 cycle. As early as July 2019, an entire year before the general election, McGrath was already hitting McConnell with attack ads.
Polling had also often shown McGrath neck and neck with McConnell. She edged ahead of McConnell for the first time in one recent poll conducted by RMG Group in early June. The survey showed 41 percent of voters backed McGrath while 40 percent supported McConnell. In another survey a week later, McConnell was once again in the lead.
"People in Kentucky know that he doesn't care about them and they want him gone. They're tired of him," McGrath said about McConnell during an interview with Newsweek earlier this year.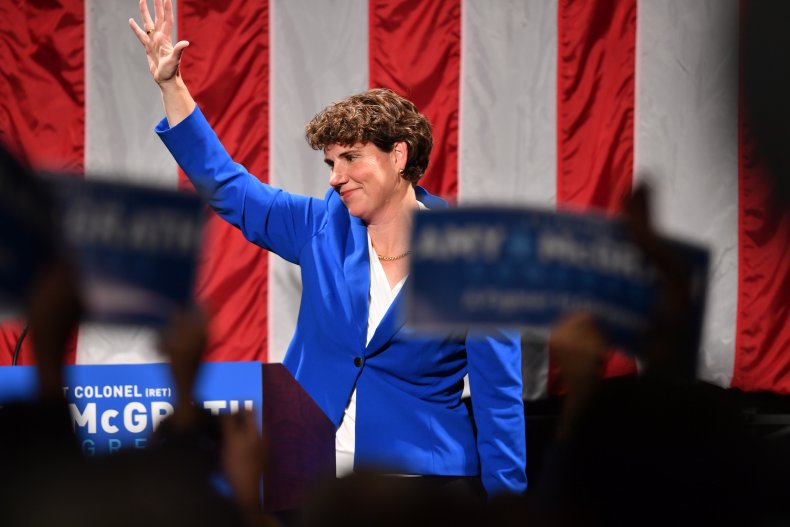 While McGrath's middle-of-the-road approach drew criticism from her progressive opponents in the Democratic primary, it could be a winning strategy for going up against McConnell. Her 2018 race was in a more purple district, whereas the state of Kentucky is reliably red: It went to President Donald Trump in 2016 by more than 30 points. With the president at the top of the ballot this year, it will be difficult for a candidate to win the Senate seat without gaining a good portion of his supporters.
McConnell has already fixated on McGrath's platform, however, as too far left for Kentuckians. In an ad that aired statewide in May, McConnell said McGrath constantly attacked him because she "doesn't want you to find out about her far-left record." The commercial noted that McGrath supported Trump's impeachment, opposes the president's border wall and supports abortion rights.
McConnell faced six Republican challengers in the state's Senate primary but sailed to victory on June 23 with 87 percent of the vote after 7 percent of precincts had reported.
As of Tuesday, McConnell was still the favorite to win in November. Nonpartisan election forecasters such as The Cook Political Report and Sabato's Crystal Ball are currently rating the race as "likely Republican."
Update (6/30/2020, 1:25 p.m. ET): This story has been updated to include comments from McGrath's statement on her primary victory.