McKenzie: Wasn't 'Feasible' to Keep Bagram Open After Troops Started Withdrawal
Of all the events surrounding America's pullout from Afghanistan, one of the most scrutinized remains the military's pull out from its base of operations in the country for over 20 years, Bagram Airfield.
At the beginning of July in the dead of night, America and its Western allies shut off electricity and left the base before Afghan military officials knew they were gone. This event proceeded the imminent fall of a number of democratic Afghan cities to Taliban rule.
During today's hearing before the Senate Committee on Armed Services, U.S. Central Command General Kenneth McKenzie answered to Senator Jacky Rosen, a Nevada Democrat, who questioned the military's decision to leave the base instead of electing to use it in service of evacuation efforts.
"It was not feasible to hold Bagram airport," McKenzie said. "There was no way we were going to be able to keep Bagram and go to effective zero in Afghanistan."
"It was inevitable we were gonna have to come out of Bagram because we ended up—in late June, early July—with 650 Marines and soldiers in the country. It was not feasible to hold Bagram under those circumstances," he continued.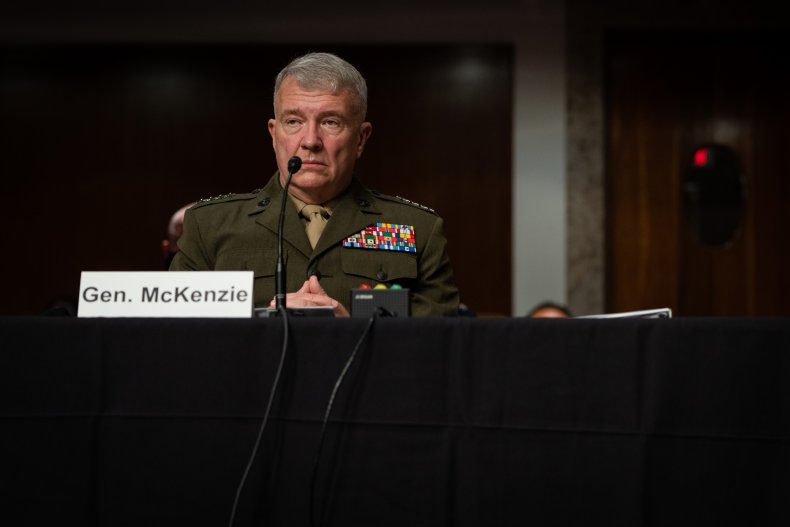 Predicating this decision would provoke questions, Secretary of Defense Lloyd Austin elected to address the pullout from Bagram in his opening remarks.
He said the distance of Bagram from Hamid Karzai International Airport (HKIA), the place of evacuations, rendered the base of little use, adding that occupying it for longer could have threatened the lives of U.S. troops.
"Retaining Bagram would have required putting as many as 5,000 U.S. troops in harm's way just to operate and defend," Austin said. "Staying at Bagram, even for counterterrorism purposes, meant staying at war in Afghanistan, something that the president made clear that he would not do."
During this meeting, Austin made clear that the president had "received" recommendations from McKenzie and Chairman of the Joint Chiefs of Staff General Mark Milley that the U.S. maintain forces on the ground to prevent a collapse of the Afghan government. The president elected to stick to his plan of removing America's presence from the country.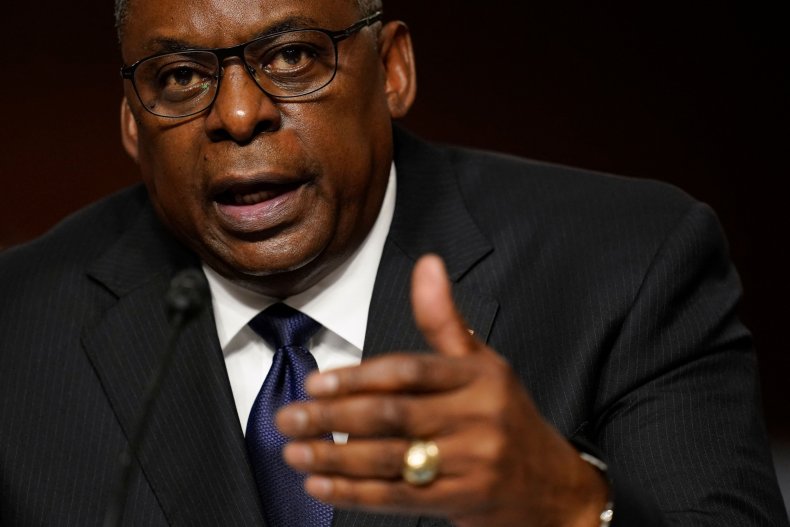 Subsequent actions were taken with this mission in mind. Austin said the military worked carefully to not move too fast and destabilize the ultimately failed Afghan government while also working to not stay too long and endanger American troops and allies.
Ultimately though, he said the nature of the mission presented "among the most challenging [type of] military operation, even under the best of circumstances. Facing terrorist threats and an unfriendly occupying force, the military looked to complete this mission with speed and efficiency, focusing resources on HKIA instead of Bagram.
"It would have contributed little to the mission that we'd been assigned, and that was to protect and defend the embassy which was some 30 miles away," Austin said.