McLaren Celebrates Queen Elizabeth II's Platinum Jubilee with Special Car
British supercarmaker McLaren is getting in on Queen Elizabeth II's Platinum Jubilee, celebrating 70 years since Her Majesty took the throne. The company has built a special McLaren Artura covered in one-off "Platinum Jubilee" silver paint with a unique badge created by McLaren Special Operations (MSO).
"It has been an honor for MSO to create a new platinum paint in celebration of Her Majesty's Platinum Jubilee this year. This special paint, which will be available for customers to select for years to come, will be a fitting tribute to mark this historic milestone," said Ansar Ali, managing director of McLaren Special Operations, in a press release.
The hybrid McLaren Artura was revealed at an event on Thursday at McLaren's Technical Center in the UK.
To create the new badge, the company had to develop a special tool and press. According to McLaren the company's advanced coating partner AkzoNobel analyzed lighting and pigments to get the perfect look. The whole process took eight days, including durability testing.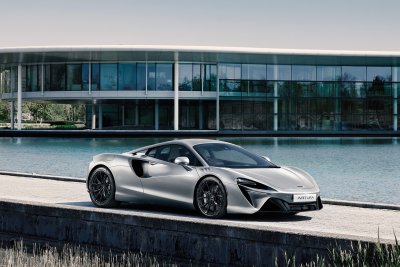 The new McLaren Artura, which came out last year, is the second hybrid McLaren after the legendary P1. It features a twin-turbocharged 3.0-liter V6 along with an electric motor that the company called Axial Flux E. It helps fill in the gaps in torque when gear changes are happening, or when the rpms are low. The powertrain makes 617 horsepower and 531 pound-feet (lb-ft) of torque.
That's good for a zero to 60 miles per hour (mph) sprint time of just 3 seconds. The Artura gets to 124 mph in 8.3 seconds and has a top speed of 205 mph.
It can also go 19 miles on electric power alone with a 7.4-kilowatt-hour battery pack. It takes 2.5 hours to charge from zero to 80 percent, according to McLaren, but even if the battery "runs out" there is always something in reserve for starting the engine.
Platinum Jubilee events take place all year, but they will all culminate in a four-day holiday starting June 2. The event will feature celebrations, public events and community activities, with moments of reflection on the Queen's 70 years at the helm.
Last week the news broke that Prince Harry, Meghan Markle and Prince Andrew will be excluded from making an official appearance on the historic Buckingham Palace balcony during the celebration. According to the palace it will only be for "those Members of the Royal Family who are currently undertaking official public duties on behalf of The Queen."
This week, a YouGov survey showed that 61 percent of British adults back that decision to keep them away. Harry and Meghan stepped down from their official full-time working roles supporting the monarchy in 2020 before moving to the U.S.