McMichael Father, Son Both Get Second Life Sentence in Ahmaud Arbery Murder
Travis McMichael and his father, Greg McMichael, both received a second life sentence on Monday after being convicted of hate crimes in connection with the killing of Ahmaud Arbery in February 2020.
During a hearing earlier on Monday morning, U.S. District Court Judge Lisa Godbey Wood sentenced Travis McMichael to life in prison and McMichael's father received the same sentence later on Monday.
"Greg McMichael, who chased Ahmaud Arbery with his son, sentenced to life in prison for hate crime in Black man's death," Mike Balsamo of the Associated Press wrote on Twitter.
The life sentence announced for both McMichaels is the second such sentence the pair has received, as they were previously sentenced to life in prison without parole earlier this year in Georgia state court.
The father and son, as well as their neighbor, William "Roddie" Bryan, were convicted on murder charges in connection with Arbery's death last year after chasing the 25-year-old Black man down with their trucks and fatally shooting him.
Bryan also received a life sentence earlier this year, but was also given the chance at parole, while the two McMichaels were not. In February, each of the three men was found guilty on federal hate crime charges in Arbery's death.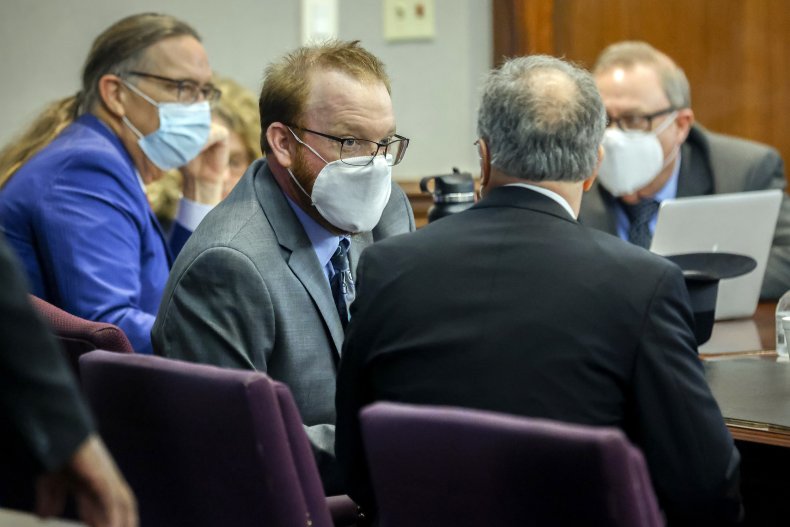 Following the life sentence handed down to Travis McMichael, Wood said, "it's not lost on the court that it was the kind of trial that Ahmaud Arbery did not receive before he was shot and killed," the Associated Press reported. Travis McMichael was sentenced on federal hate crime charges, according to the Associated Press.
Arbery's mother also spoke during the hearing on Monday and said, "It's so unfair, so unfair, so unfair that he was killed while he was not even committing a crime," the AP reported.
According to the Associated Press, prior to the hearing on Monday, Travis McMichael's lawyer, Amy Copeland, filed a motion to have him moved from Georgia prison to a federal facility, citing potential threats that he could receive. "I am concerned your honor that my client effectively faces a back-door death penalty," Copeland said.
During the hearing on Monday, Greg McMichael addressed Arbery's family. "I'm sure my words mean very little to you but I want to assure you I never wanted any of this to happen there was no malice in my heart or my son's heart that day," he said, according to the AP.
In a statement sent to Newsweek, former federal civil rights prosecutor and former elected state attorney in Florida, Michael McAuliffe said, "[Travis] McMichael was tried and convicted for hate crimes in federal court that run parallel to, but are distinct from, his prior state murder convictions for Ahmaud Arbery's death. If the state case conviction and sentence are reversed on appeal, the federal conviction and life sentence still apply. The same is true if the federal case is reversed on appeal––the state sentence could remain."
"However, more than the prosecutors' strategic hedge against appellate issues in one or both cases, the likely reason the feds charged the defendants in Arbery's death was to highlight the racial animus that motivated the chase and shooting of the victim," McAuliffe continued. "The separate life sentence for one or more of the defendants in the federal civil rights case will reflect the racial component in the attack."
Newsweek has reached out to Amy Copeland for comment.
Update 8/8/22 2:10 p.m.: This story has been updated with additional information.