McRaven: Retired Admiral Who Oversaw Bin Laden Raid Hits Back at Trump Taunts: 'I Did Not Back Hillary Clinton'
Admiral William McRaven used an interview with CNN Sunday to respond to President Donald Trump's dismissal of him as a Hillary Clinton backer.
In a Fox News Sunday interview aired earlier that same day, Trump had described McRaven as a "Hillary Clinton fan" and questioned why the military had not killed al Qaeda leader Osama bin Laden sooner.
McRaven was the architect of the 2011 raid in which Navy SEALs assassinated 9/11 mastermind bin Laden in his compound in Abbottabad, Pakistan.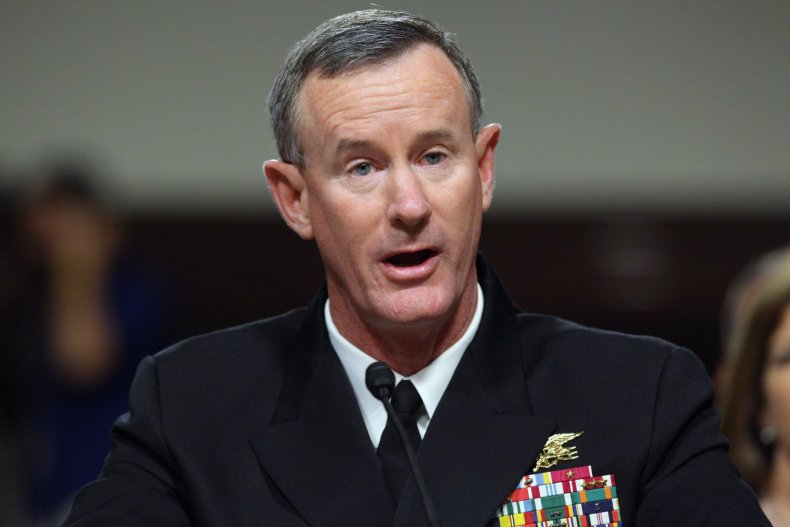 "I did not back Hillary Clinton or anyone else," McRaven told CNN in response to Trump's comments.
"I am a fan of President Obama and President George W. Bush, both of whom I worked for. I admire all presidents, regardless of their political party, who uphold the dignity of the office and who use that office to bring the nation together in challenging times."
"I stand by my comment that the President's attack on the media is the greatest threat to our democracy in my lifetime," McRaven said, referencing critical remarks he made about Trump last year. "When you undermine the people's right to a free press and freedom of speech and expression, then you threaten the Constitution and all for which it stands."
Trump had derided McRaven—who during his 37 years in the U.S. military also oversaw the capture of Iraqi dictator Saddam Hussein—as a "Hillary Clinton fan" and "Obama backer".
"Wouldn't it have been nice if we got Osama bin Laden a lot sooner than that, wouldn't it have been nice?" the president said. "You know, living — think of this — living in Pakistan, beautifully in Pakistan, in what I guess they considered a nice mansion, I don't know, I've seen nicer. But living in Pakistan right next to the military academy, everybody in Pakistan knew he was there."
Retired Major General Paul Eaton was among those who criticsed the president's comments, describing tha attack as "unconscionable" in a tweet Monday.
"The least noble American, Cadet Bonespurs @realDonaldTrump , has resumed his unconscionable attack on one of our most noble - Admiral McRaven - who continues to serve America with dignity and his keen sense of history. Midterms served as a referendum for this appalling POTUS," tweeted Eaton.
McRaven—who stepped down last year as chancellor of the Texas University System because of health issues—had criticized the president in a Daily Texan interview in 2017, calling Trump's description of news media as the "enemies of the people" the greatest threat to U.S. democracy he had ever seen.
The retired admiral in a Washington Post op-ed this summer defended former CIA Director and Trump administration critic John Brennan after Trump revoked his security clearance—calling for the president to also withdraw his clearance in an act of solidarity.
"Through your actions, you have embarrassed us in the eyes of our children, humiliated us on the world stage and, worst of all, divided us as a nation," he wrote.
This story was updated on Monday November 19 to include a tweet by Retired Major General Paul Eaton, criticising Trump's comments on McRaven.
This story was corrected on Tuesday November 20 to state that President Trump's interview was broadcast on Fox News Sunday. Fox News Sunday airs on Fox Broadcast, a seperate entity to Fox News. An earlier version of the article stated the interview aired on Fox News.