'Me Too': A Long But Incomplete List of People Who've Experienced Sexual Harassment or Assault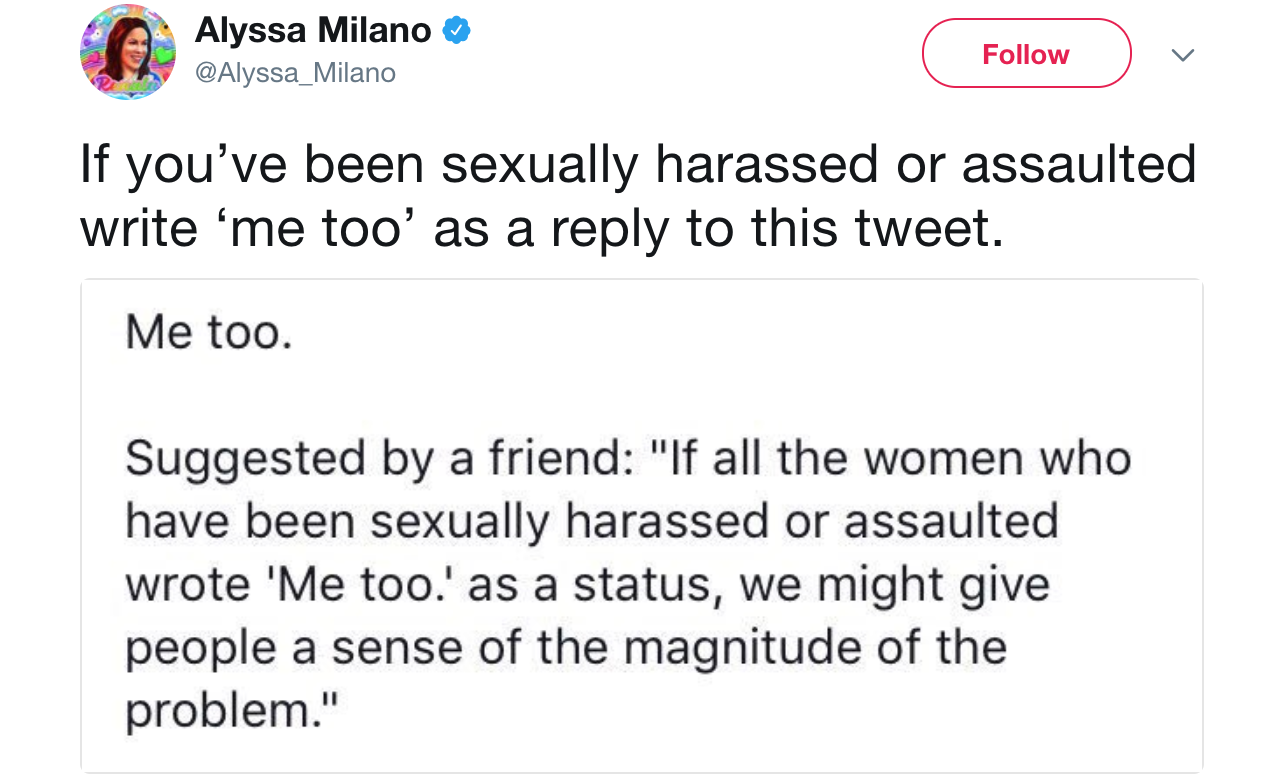 They're two small words. Five tiny letters. But they have a big meaning. "Me too," as a statement and hashtag, is everywhere you look on social media, offering insight into the harassment women continually face.
In the wake of the allegations about producer Harvey Weinstein and the subsequent discussions of sexual harassment and assault in Hollywood, actress Alyssa Milano started a thread to demonstrate how big the problem is. Acting on a friend's suggestion, she tweeted, "If all the women who have been sexually harassed or assaulted wrote 'Me too' as a status, we might give people a sense of the magnitude of the problem."
While "Me too" might be frustratingly obvious to some, especially women, it's obviously not apparent to everyone. So thousands of women, along with men and transgender and gender-nonconforming individuals, are shouting it from social media rooftops.
Here's a long yet incomplete list of women who've joined to say "Me too":
The movie, television, stage and voice actresses include Debra Messing (Will & Grace), Sophia Bush (One Tree Hill), Brooke Smith (Bates Motel, Ray Donovan, Grey's Anatomy), Anna Paquin (The Piano, Jane Eyre, Philip K. Dick's Electric Dreams), Laura Dreyfuss (Glee, Dear Evan Hansen), Kat Dennings (Two Broke Girls), Kristin Bauer (True Blood, Once Upon a Time), Lea Thompson (Caroline in the City), Tara Strong (My Little Pony: Friendship Is Magic, The Fairly OddParents), Ella Purnell (Never Let Me Go, Maleficent, Miss Peregrine's Home for Peculiar Children), Shruti Seth (Slumdog Millionaire), Sara Waisglass (Degrassi: Next Generation), Kaya Scoledario (Maze Runner: The Scorch Trials, Pirates of the Caribbean: Dead Men Tell No Tales), Suki Waterhouse (The Bad Batch, Insurgent), Pauley Perrette (NCIS), Rena Sofer (The Bold and the Beautiful), Tatiana Maslany (Orphan Black), Allison Tolman (Fargo), Rebecca Mader (Once Upon a Time, Lost), Gabrielle Union (Bring It On, Being Mary Jane) and Rosario Dawson (Sin City, Seven Pounds).
Music stars and actresses include Lady Gaga, Anika Noni Rose and Kelly Hogan. It's also reality-TV stars like Ali Fedotowsky-Manno (The Bachelorette), Jade Tolbert (The Bachelor) and New York City public defender Eliza Orlins (Survivor). It's journalists and hosts including Gretchen Carlson, HuffPost Editor-in-Chief Lydia Polgreen, Joy Benedict of CBSLA, Jamie Erdahl of CBS and Jennifer Bendery of HuffPost. It's writers like Najwa Zebian and former child actress Quinn Cummings. It's entrepreneurs like Build founder Suzanne McKechnie Klahr. It's the UnSlut Project founder Emily Lindin. It's Monica Lewinsky.
British Labour MP Stella Creasy tweeted the words, then added, "Not 'admitting' anything. Saying I've been harassed like millions of women & girls all around the world. Shame is on the attackers, not me."
Several men spoke up too:
Hamilton actor Javier Muñoz tweeted: "Me too. I don't know if means anything coming from a gay man but it's happened. Multiple times." It's fellow actors, including Dan Amboyer (Younger). It's Project Runway alum Sam Donovan. It's TV writer and producer Robert Hewitt Wolfe (Elementary).
This clearly isn't a movement confined to Hollywood. Take a look at your Twitter and Facebook feeds and you'll surely see women, men and transgender and gender-nonconforming individuals who are family members, friends and acquaintances who've bravely typed the words "Me too."
Still, the list is far from complete. Just because individuals have decided to share their experiences doesn't mean everyone is ready to go public. And that's OK. As New York Post writer Alexis Benveniste tweeted: "Reminder that if a woman didn't post #MeToo, it doesn't mean she wasn't sexually assaulted or harassed. Survivors don't owe you their story."
Others tweeted about how they can't think of a woman they know who hasn't been harassed or assaulted in some way. It might remind you of another hashtag: In the wake of the 2014 Santa Barbara, California, shooting, #YesAllWomen explained that, yes, all women have experienced harassment, misogyny and other forms of gender discrimination and violence.