66 Percent of Republicans Think #MeToo Movement Has Gone Too Far, Poll Shows
The #MeToo movement has shown no signs of slowing, especially amid the recent confirmation of Supreme Court Justice Brett Kavanaugh, despite allegations of sexual assault. But a large portion of Republicans think the women's movement has already gone too far, according to a new poll released this week.
The survey from The Economist/YouGov asked, "Do you think the #metoo movement against sexual harassment," and respondents could choose among four answers: "Has gone too far," "Has been about right," "Has not gone far enough" and "Not sure."
Among Republicans, 66 percent said the #MeToo movement has gone too far. Twelve percent of GOP respondents said #MeToo has got it about right, 4 percent said not far enough and 18 percent said not sure.
There was a divide along party lines, with just 11 percent of Democrats saying #MeToo has gone too far in how it has opposed sexual harassment. Forty-two percent of Democrats said #MeToo has got it right, 31 percent said it hasn't gone far enough and 16 percent said not sure.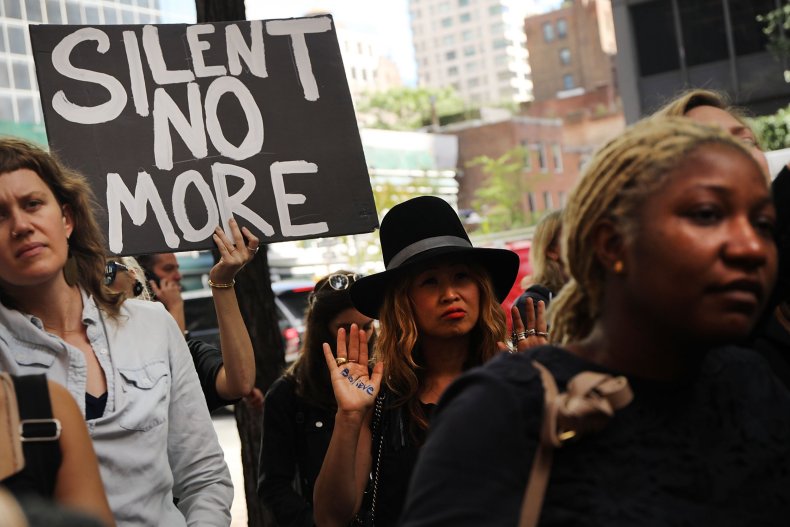 Men and women felt differently as well. Forty percent of men said the movement had gone too far, according to The Economist/YouGov poll. Twenty-nine percent of women said the same.
Overall, according to the poll, 35 percent of Americans think #MeToo has gone too far, while 26 percent said it has got it right and 17 percent said not far enough.
The Economist/YouGov surveyed 1,500 U.S. adults from October 7 to October 9. It had a margin of error of plus or minus 2.7 percentage points.
President Donald Trump has ridiculed the #MeToo movement. He joked about it at a Pennsylvania rally on Wednesday, for instance, saying the so-called rules of #MeToo didn't allow him to reference the state as one that previously got away from GOP candidates.
"I would use an expression—you know, there's an expression, but under the rules of #MeToo, I'm not allowed to use that expression anymore," Trump said to the crowd in Erie, Pennsylvania, on Wednesday night. "I can't do it. It's 'the person that got away.' See, in the old days it was a little different."